If you are looking to freshen up your wardrobe with clothing that complements your skin tone, you've come to the right place. Fat Cat will unleash the secrets behind matching your hijab to your skin tone!
Like all you gorgeous ladies, waking up in the morning can be a mission for Fat Cat. After dragging herself out of bed the last thing she wants to do is trying to co-ordinate her hijab to look good against her skin. So at night before she hits the warmth of the bed she first decides on her hijab according to her skin tone and then decides on her outfit for the following day. After all she has to look super savvy when she goes to work. You pretty ladies are probably undergoing the exact same problem, so lets crack on.
Instantly tell what outfit will match your hijab for your skin tone!
Every Hijabi Cat needs to have colours that would complement her skin perfectly. Usually rampaging through the cupboards you are trying to find a print or colour that will work for your skin at the last minute.
What you need is a selection of solid coloured hijabs that are complimenting your skin, ready and available in your wardrobe. Read on for the colours that will work wonders with your skin tone and therefore allow you to match your hijab to your outfit.
Light Skin 
People with light skin tend to have two sub categories their skin falls into:
Skin with pink undertones
Skin with yellow undertones
As a rule of thumb white and black always looks good on you and colours that are similar to your skin look horrible, so colours such as beige, camel and taupe in your hijabs need to be avoided at all costs.
Wear a hijab that is in one of the following colours:
These are the most useful colours you will wear and form the basis of most wardrobes. They are also timeless in terms of fashion.
Problem solved: Create your outfit!
The above was a guide for what suits your skin tone in terms of hijab, now from here you can organise the rest of your wardrobe. If you are using a hijab that compliments your skin colour, you can then coordinate that to whatever outfit you want to wear.
You do not even have to worry too much about avoiding certain colours as your hijab will be in a colour that suits your skin tone around the face, so it will take eyes away from the outfit, unless the outfit is in a vivid colour and does not suit the Hijab. (See our Hijabi's Saviour – The Colour Wheel for inspiration on what colours you can mix and match to wear out).
For example, if you want to wear a top in camel colour go right ahead, contrast it with a black hijab and your all set to go, you can even co-ordinate the look with black trousers and camel coloured shoes! So in this case, hijab can act as a big help for us hijabis as you can work the hijab around the colour of an outfit that you might not be keen to wear otherwise.
Do not be shy of experimenting with bold and bright colours as these look great on skin with either pink or yellow undertones. Pastel colours look gorgeous on those who have pink undertones. A good way to tell what skin undertone you have is by the jewellery colour that suits you:
If gold looks good on you = yellow undertones
If silver looks good on you = pink undertones
Some people are lucky and both silver and gold suits them. If you are one of those, all types of solid coloured hijabs would look good on you.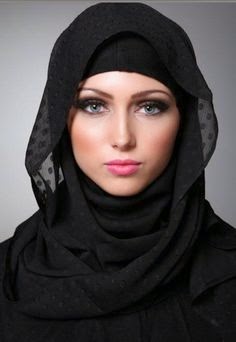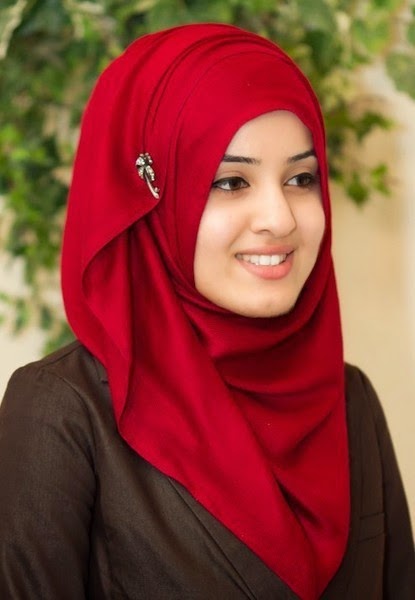 Medium skin – Look great in the right colour Hijab!
For Hijabi Cats that have medium skin tone you have the fail proof options in neutral coloured hijabs such as:
Ivory
Beige
Sand
Taupe
Light blush
Olive green
If you want to go bold and experiment with further colours, then go into jewel colours such as:
Emerald
Cobalt
Royal purple
Ruby red ( or similar to this, Cardinal red)
Bright pink
Sapphire which can really highlight your face and brighten it up
However, ensure that you stay away from pastel coloured hijabs such as:
Once again here you can experiment with colours and wear that baby pink dress with a bright pink or cobalt hijab which will take the attention directly to the face and away from the colour of the dress/outfit hence creating a monochromatic effect.
Problem solved:  Create your outfit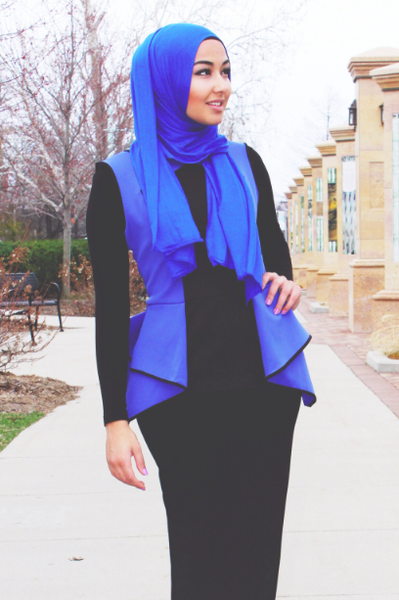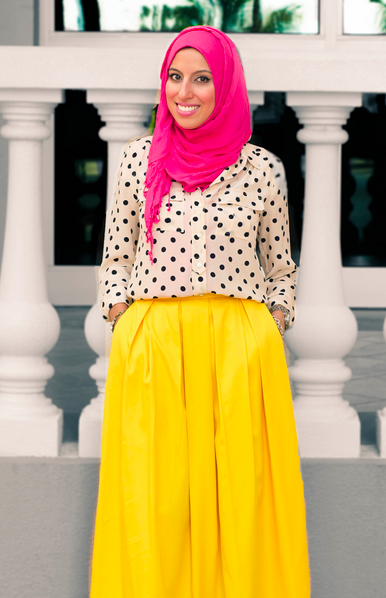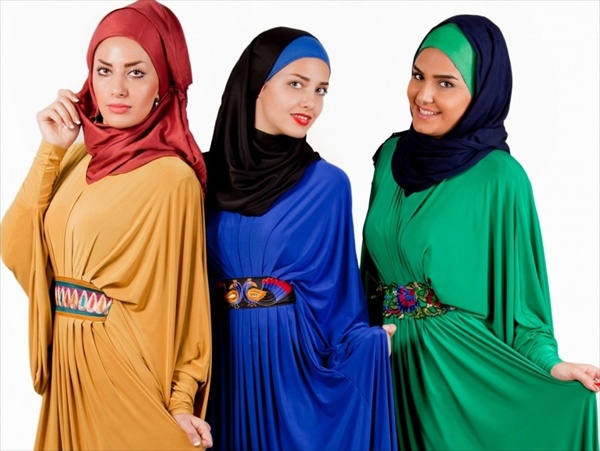 Dark skin – The smoky princess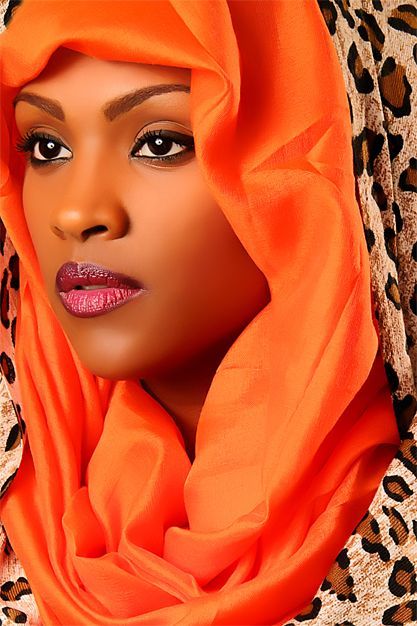 Depending on the shade of skin that you have, dark skin is seen as being the most versatile of all skin colours. So as a rule, any colour works – mocha and brown being the exception as it blends in with your skin tone therefore giving you a rather unattractive look.
The key to looking good in a hijab for dark skin tones is to ensure that the glow of your skin does not disappear with dull colours. For example, grey will not look good on you but taupe will.
Hijab colours that look good on dark skinned girls:
Hijab colours that may not be flattering on dark skin:
Black
Turquoise
Bright green
Dark brown
Navy blue
Please do not be afraid to experiment as this will give you a good idea of what suits you and what does not.
Problem solved: Create your outfit
All you girls out there with darker skin tones who are often not confident about the right colour shade of hijabs, today we have compiled a number of pictures of dark skin beauties who have enhanced their modesty and style with a beautiful collection of hijab colours and styles.
Wearing a hijab colour that contrasts your outfit or abaya is always a great idea.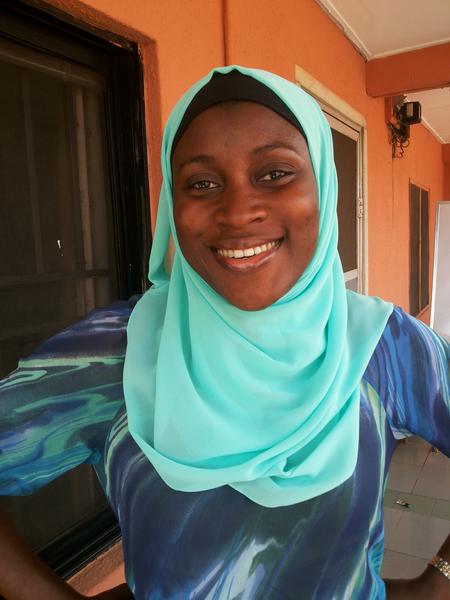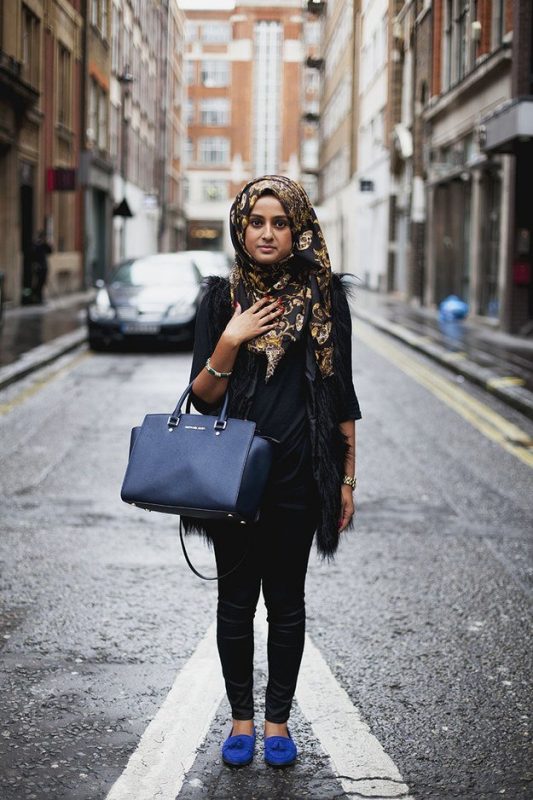 Fat Cat's Bonus Tip:
Whatever your skin tone is, you are a beautiful person. Experiment with colours that you like and you will find something you can wear. Remember that in Islam, it is more important how beautiful we are from the inside rather than the outside.
Enjoy experimenting and don't forget to comment!!