We may love to dress up on special occasions such as Eid and Weddings but as Muslimahs, we need to ensure that we are keeping within the limits of Islam. Some girls embrace the chance to do up styles or braids and ponytails and feel comfortable showing their hair alongside their makeup. However, some Muslimahs prefer to keep their hijabs on and still look pretty. What better occasion could there be to feel good than in a halal environment?
We must stress that these tips should only be used to beautify yourself in a halal environment as looking attractive for the opposite sex is strictly forbidden. This article is strictly aimed at Muslimahs who will be going to special events/occasions where only other women will be attending. Often people misunderstand the purpose of the hijab in Islam. The hijab is there to protect us from the eyes of men and encourage modesty, but on special occasions such as at a mehndi, weddings or girl's' parties we are allowed to let our hair down and have a good time.
Matching your makeup to your wardrobe can be a very flattering technique when done correctly and conversely, can look appalling when done incorrectly. So, to help guide you in your quest to match make up and wardrobe, we've put together some simple tips for pulling off a regal look, royal or not.
Shades of colour
Do you want to wear your favourite hijab to a special event this year but cannot since you are struggling to work out how to apply your makeup? The most common plan of action in these cases is to stick to the basic makeup that you think will pair well with any outfit. Why not be a little daring and create a striking and elegant look to complement your ideal outfit?
Join us as we go through the different types of makeup you can apply and explain some colour combinations that usually work well together. We've also included some advice from amazing makeup artists who are well-qualified and certainly know their stuff!
Let's go back to the good old colour chart. You may remember us having discussed it in Part 1: Hijabis saviour the colour wheel. Taking this wheel into consideration, remember that complementary colours help to bring one another out. So, when you wear blue, it's always a good idea to wear its counterpart on the colour wheel. Reds and oranges complement blue shades. So, pair colours like coral, orange, peach and, brown with blues. The shade you pick will always depend on the tone that look best against your complexion.
Another cool trick is to throw one colour of your outfit into focus. For example, if blue is just one of a few colours in your outfit, you can then introduce blue shades into your makeup as well. This plays up the blue theme while not overwhelming your outfit and allows the other colours to break it up.
Safiyah Tasneem carries off this look perfectly in this picture., Can you see how she blends her eye makeup to match the scarf and then brings the entire look together perfectly with the toned down deep coral lipstick? (Thank you Safiya for letting us use her pic, do follow her on Instagram @safiyahtasneem).
Your wardrobe attire can be very flattering if done correctly and conversely, can look appalling when done incorrectly. So, to help guide you in your quest to match make up and wardrobe, we've put together some simple tips for pulling off a regal look, royal or not.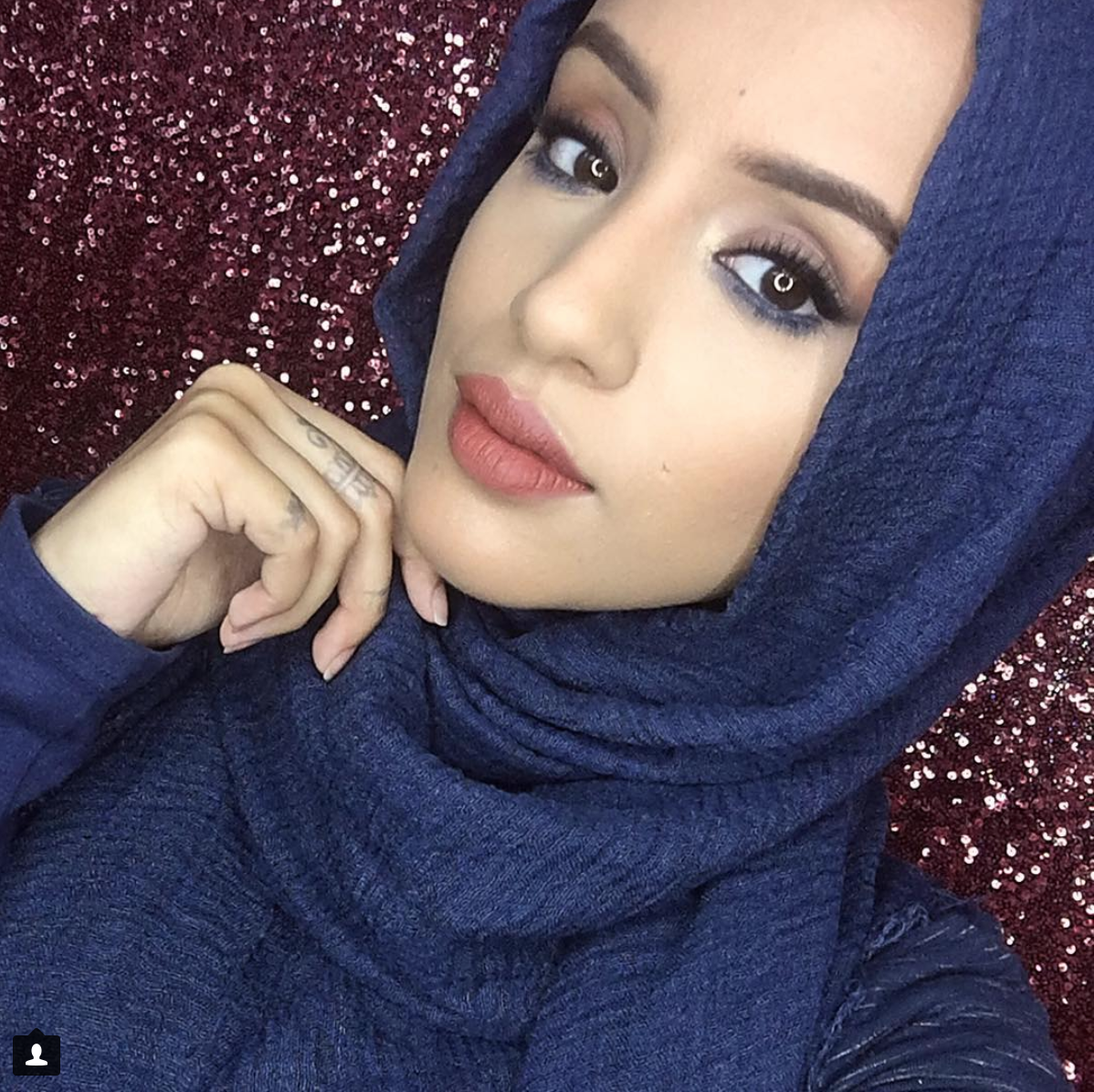 The Base
Your base will change depending on the type of look you are going for. For a fresh dewy look throughout the day, start with a good scrub and moisturiser.
Use a good primer to get your skin nice and smooth, then use a standard concealer stick to cover all your blemishes, spots, and dark circles. Now apply the foundation that suits you. These steps ensure that your skin will have a healthy glow and not look washed out in photographs.
Cheeks
Cheeks don't need to be the focus of a look but we do advise that you colour coordinate your cheeks with your lip colour – this always looks stunning. If you're wearing blue, black, dark burgundy or dark green hijab, then a warmer toned blush would work very well as these shades prevent washing out and an unhealthy paleness. Any pink toned blush would give a rosy colour to your cheeks and these always pop when paired with red, orange or pink coloured hijabs.
If you like a more golden look, go ahead and reach for some bronzer. Draw two tiny streaks right under your cheekbones with the bronzing powder. Using a flat brush, blend with straight strokes upward and towards the ear. This adds a pearly glow while highlighting your facial structure.
The following picture was provided by the amazing Uzma – A hijab stylist and makeup artist (follow her on Instagram to see the amazing looks she has created – @uzmahijabstylist). Here, Uzma has shown us how a warm blush can work wonders against a dark hijab in teal blue.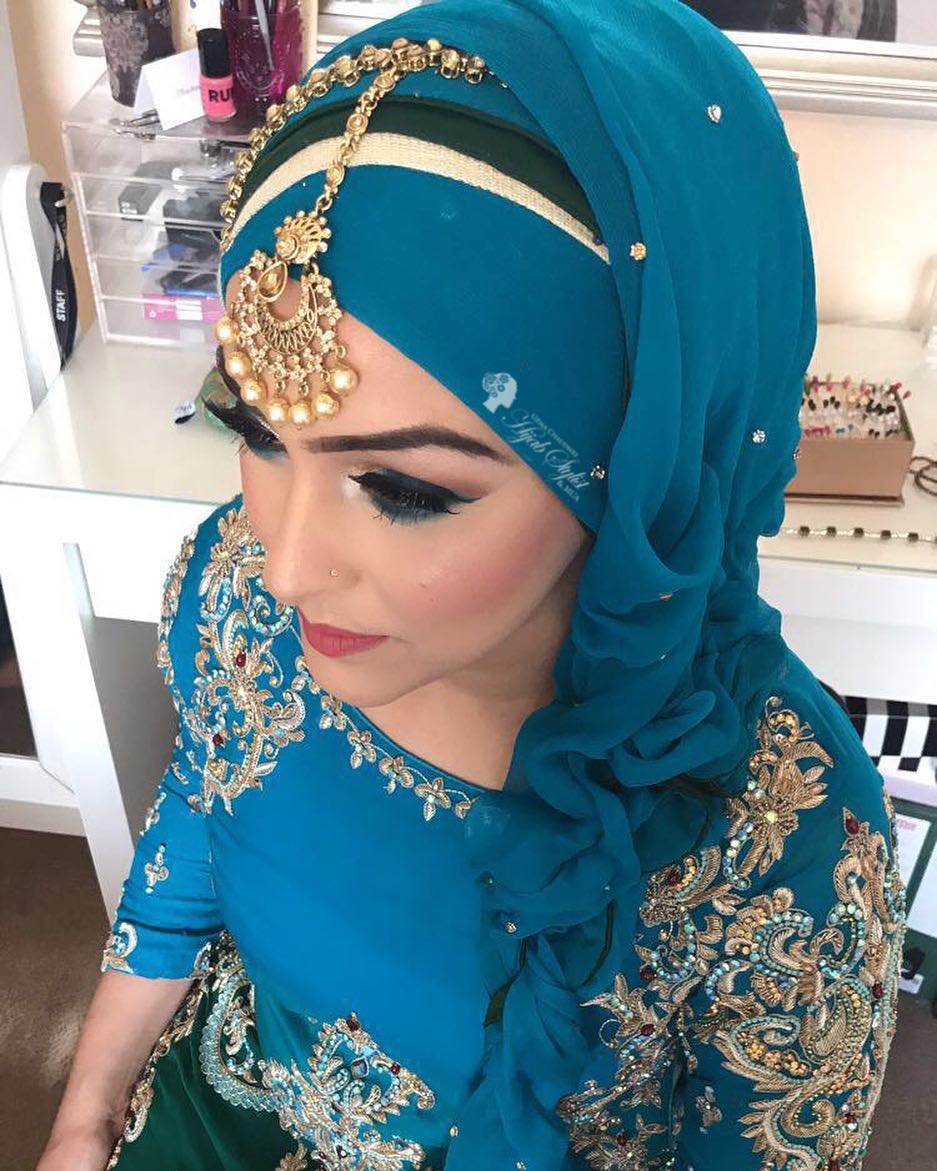 One Feature Focus
Don't even think about pairing that red dress with red lipstick, blush, and eyeshadow – this is heading straight into clown territory. Instead, pick a single feature to enhance; the eyes or lips, and apply your focal colour there alone. If you're brave, you might be able to get away with a second enhanced feature in another colour. For example, if your outfit is multicolored, use one colour on the lips and another as your eyeliner.
Eyes
Your eyes can look amazing with a multitude of hijabs. Metallic, Smokey eyes with winged eyeliner or a cat-eye work brilliantly with blue, silver and purple hijabs. Try metallic colours like gold or champagne with red, gold and pink hijabs. If you are going to make your eyes a focal point, try to play down your cheeks and base and bring the focus just on the eyes.
If you're going towards colours such as blue, purple or black hijabs for a wedding, then use a light coloured shadow to cover the eyelid entirely. Use a darker shadow or an eyeliner to create the cat eye's signature V-shape. Blend the shadow towards the crease and also apply on the inner corners. Use the lightest of all shade in the middle of your eye.
Add a little sparkle with either gold or silver glitter for a warmer or cooler look respectively. Line your eyes with a coloured or black liner, starting at the inner corner and finishing with a wing. Don't forget to add some mascara for the ultimate look!
The entire outfit below is purple and keeping this in mind, Uzma(@uzmahijabstylist) has kept the makeup subtle. Her lighter shades of eye-shadow work with her outfit without overpowering it and she has used a light pink lip colour. We think she looks absolutely stunning!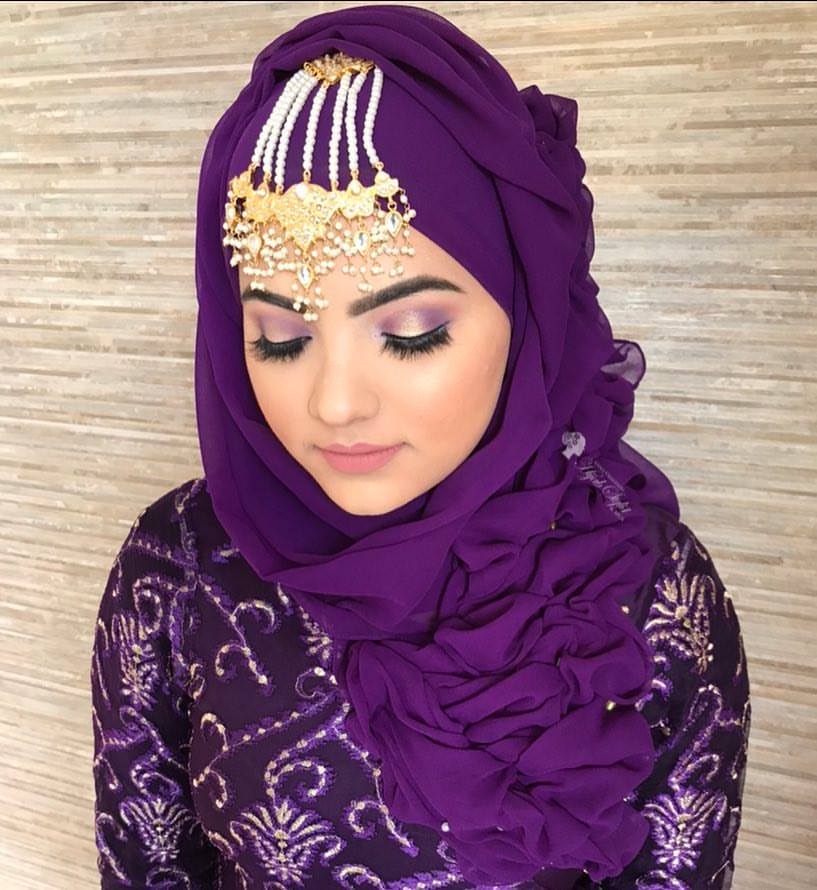 If you're going to go for something daring like red, then go for a bold eyeliner as it always looks good with vibrant colours. However, avoid using a dark eyeshadow. In fact, we would suggest skipping the eyeshadow altogether. At most, try a natural, shimmer eyeshadow that will look good but still be subtle.
Lips
If your eye look is dramatic, then nude lip colours go perfectly. Apply a nude lip liner. Try peach, pink or any other nude shade of lipstick. If you intend to make your lips the focal point of your look, go for a red/coral/pink lip colour and remember to tone down on how you create the eyes instead.
If the eyes are not your focal point and, you've gone for something bright like a red hijab, wear a similar shade of red on your lips for a pop of colour and vibrancy. For blue or gold hijab, you could go for a deep shade of purple or even a burgundy lipstick which will bring out the colour in of your gold hijab.
The Big No No!
Avoid using exactly the same shade of shadow as the colour of your dress – it looks too deliberate. But do stay within the same base colour. Pick just one colour and its variations, and go darker or lighter, more sheer or opaque, or more or less saturated than the original colour.
Pair bright blue clothes with a smoky blue-grey eyeshadow. Try pink lips with a coral top or dark red lipstick with a ruby-red dress. To go even softer, use sheer shadow or blend colours with their complements, like a pink-brown shadow with brown clothes.
Embrace Neutrals
You want your focus feature to stand out, so tone down the rest of your makeup by using shades from a soft, neutral palette. With bold lips, opt for sheer, muted neutrals or peachy colours on the eyes and cheeks. With statement eyes, choose a neutral lip. However, if your outfit is neutral, be sure to add colour to your makeup to avoid looking washed-out. Match your lipstick to a bright accessory or make daring eyeshadow the only colour you sport.
Mind the Hijab
If your makeup colour palette matches your hijab too closely, be forewarned – this look may be just too much. You want only one exact tie-in above the shoulders as a pop against a neutral background. Avoid choosing any colour that exactly matches your hijab – try to go for a different shade unless you're ditching your matching headwear because it's an all-girls event. Otherwise, the other option is to go fully neutral in the face for this kind of look.
If you struggle to know whether your hijab suits your skin tone then please check out our Part II Learn the Art of Matching Your Hijab to Your Skin Tone article and also Part III Prints to wear or Not to Wear?
Bonus Tips & Photos
Meher Malik
Mehar Malik (@meher_malikk), a famous London based fashion & beauty bloggers have these exclusive tips for our readers:
I have chosen two seasonal hijab colours, nude pink and lilac. These colours are both good for summer and for brightening up winter. They are also quite versatile as you can pair them up with bright colours.

With a pink hijab, you would combine smokey eyes and nude lips, these are staple looks and look good with any colour of outfit. If you look at my picture below, I have used a peach gloss lipstick (the Burberry soft matte to be precise!), I have used Dea of beauty's lipliner to outline my lips. I used Huda Beauty's eye palaette for a gorgeous subtle look. This natural look works with this outfit, because the outfit has a lot of work on it, making a more natural, soft look work perfectly.
Here is an example: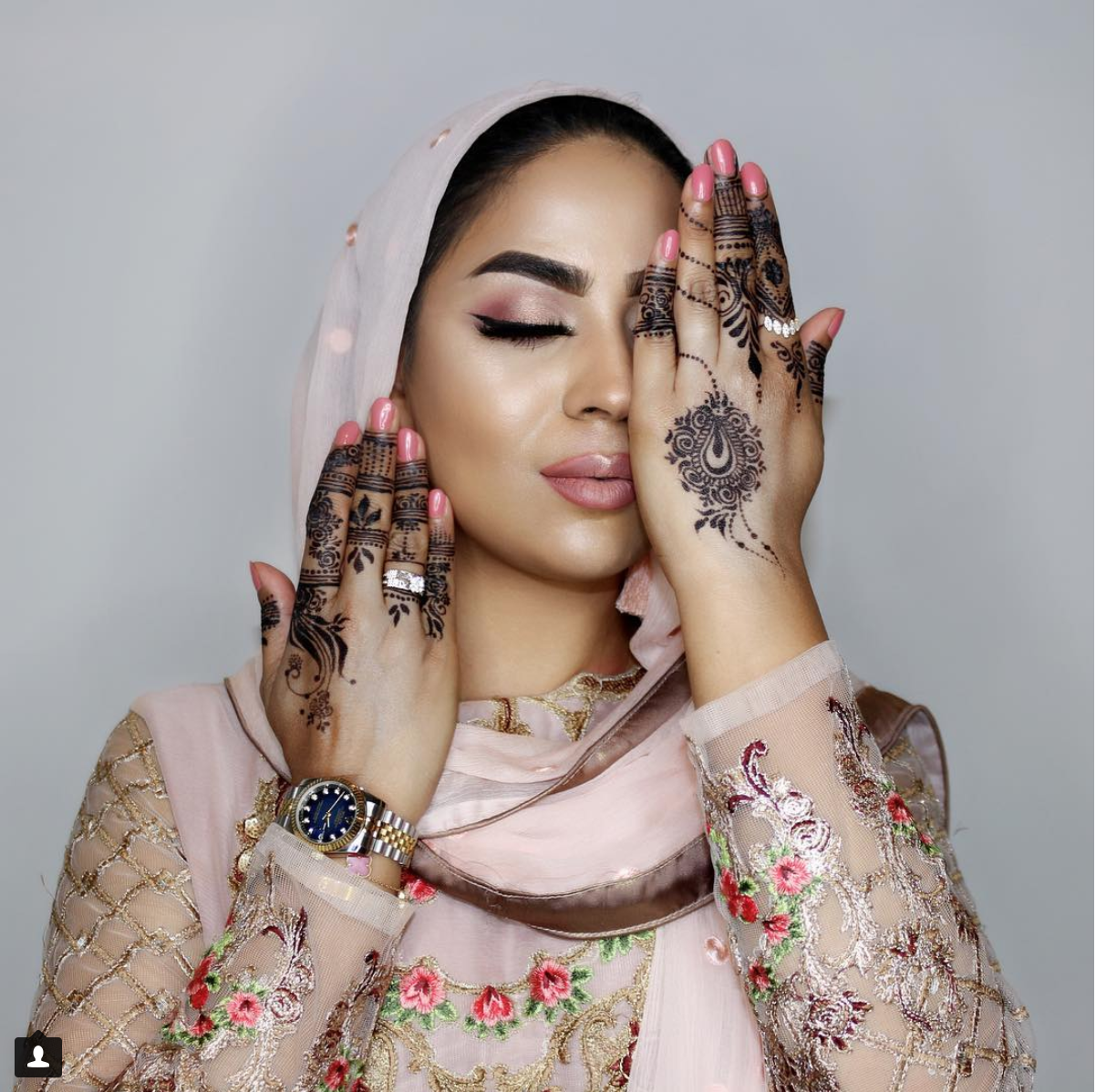 With a lilac hijab, I would go for a purple shade of lipstick as that would bring out the lilac hijab and compliment it well. I would also match this with a bronze coloured eyeshadow. Remember to blend in a light shade of gold with a deep bronze. Use a bold black eyeliner and thick fake lashes as well as this will highlight your eyes.
Fazmina Sideek
Fazmina (@ladymascara_dxb), the famous bridal make up artist was a joy to communicate with. I absolutely love the way she does her makeup, her looks are just completely unique, or maybe it's just that I am crazy about her makeup skills! Here are her tips:
I usually figure out the makeup once the entire outfit has been figured out. It's important to take note of the event taking place as well, whether it's for a bridal or just an event out. Usually, if it's something more dramatic, I love going for heavier makeup paired with an outfit that's elegant and subtle. Like a peach-gold outfit (and this hijab would be beige/peach) with eyes that are smoked out and have brown tones with a hint of gold/glitter and maybe a dramatic liner as well.

For this kind of look, I'd do a dark shade of maroon for the lips and a sharp contour and highlight. But I do also feel a muted brownish peach lip would suit the entire look as well.
Here is an example: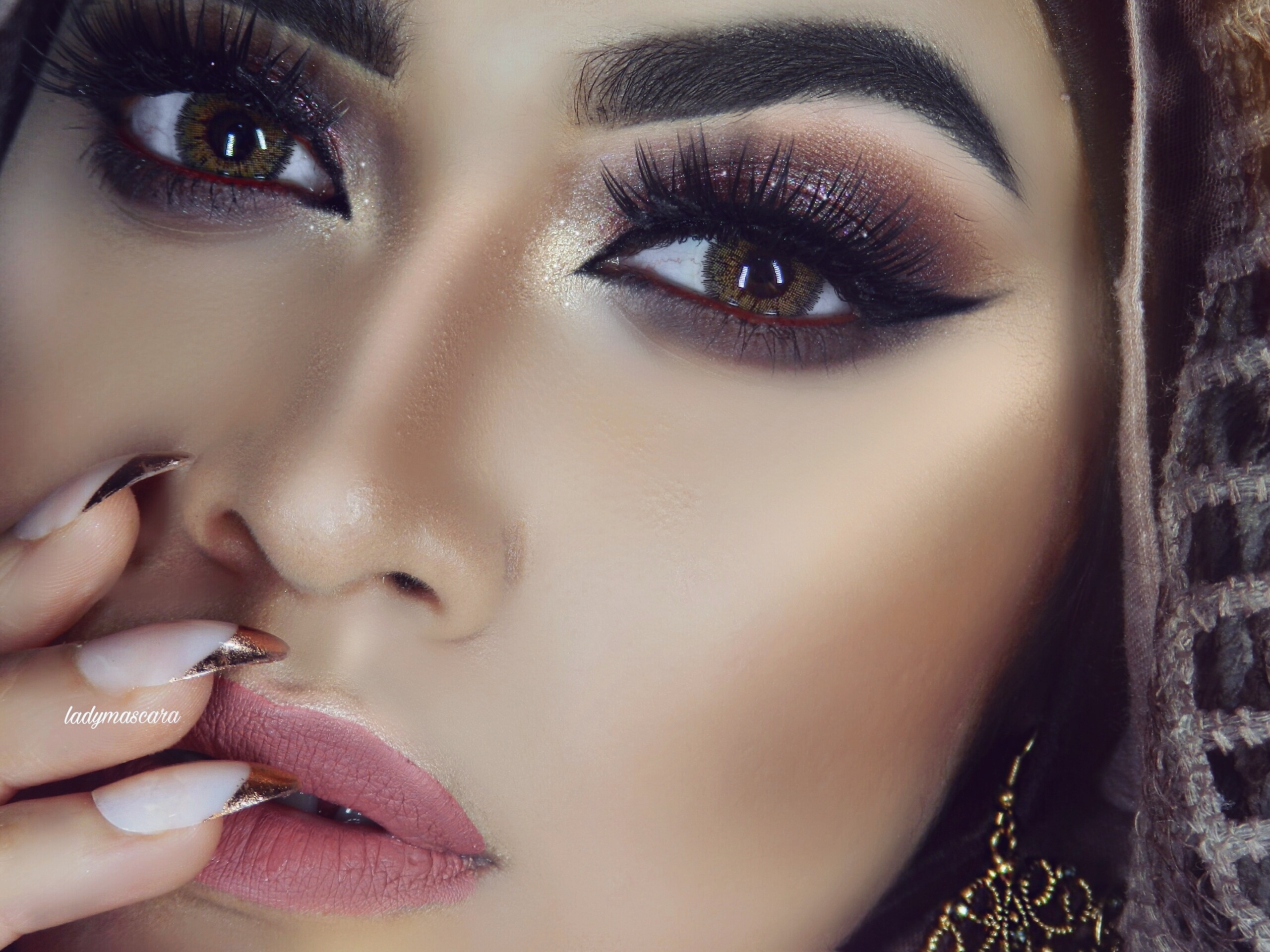 Another beautiful pairing would be olive green, gold and browns. They more often than not suit everyone. So this would be good if there's an outfit that's olive toned paired with a hijab of the same shades. Usually, an outfit/hijab isn't one shade, so I focus on the colours that aren't dominant and use those colours to inspire the makeover. Olive Green is a beautiful complement to brown, so I would work on a double inner eyeliner, dramatic wing and some glitter with shades of brown morphing into a beautiful olive tone. We would have dark olive at the bottom of the eyelids as well. this look, I would like to go with a brown glossy lip, blushed cheeks and sharp contouring. And plenty of glow.
Here is an example of this: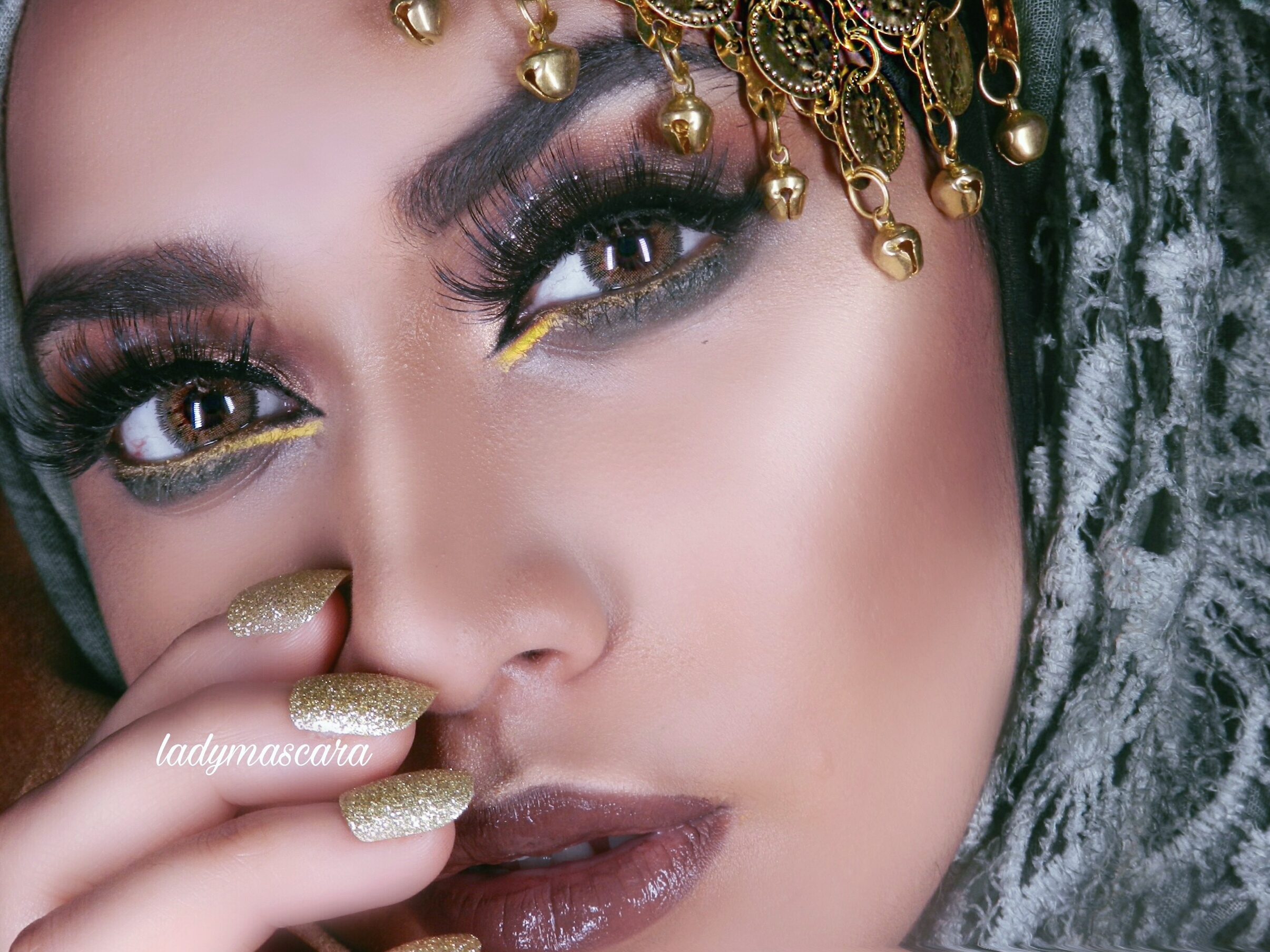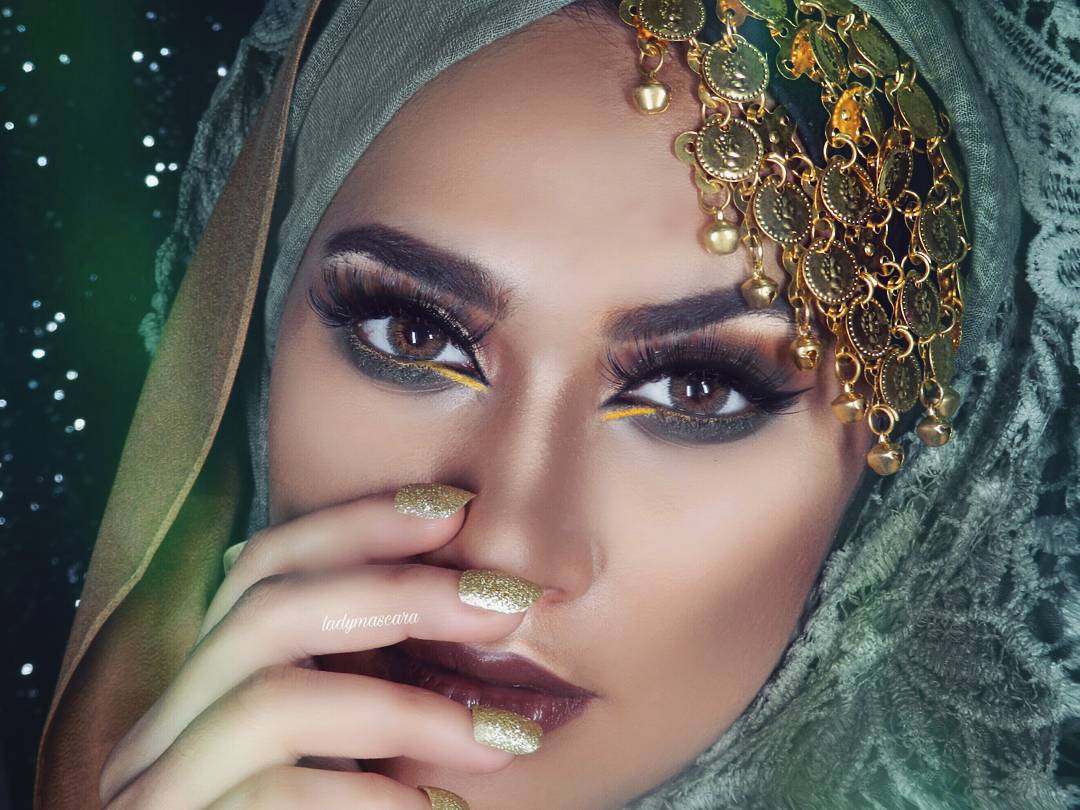 We really hope that this article has helped you with how you can match your make up to your hijab for a special day out. Please do leave us feedback as it means a lot to us, and we thank all the make-up artists that contributed to the article!
Finally, if your struggling to sort out your everyday outfits and plan for special occasions, why not download our Part V Daily Hijabi Outfit Planner?