Wondering what hijab styles to flaunt this winter?  – So, here we are in December, with the colder months creeping up in the following weeks. We may as well brace the harsh cold in style by taking a little inspiration from some of our favourite modest fashion influencers. I have loved seeing the difference in colours and materials in hijabs as we move into Autumn onwards. I did a little Instagram stalking of my favourite hijabi influencers and was in complete awe with the sophistication oozing from each picture. That being said, I have curated the best and warmest trends for you!
Now that we are reaching autumn quite rapidly, the instant reflex is to throw all of our spring/summer pastel hijabs to the back of the wardrobes in favour of darker warm-toned pieces. I am an absolute lover of dark richer tones, but I don't live in an ideal world. I have a real-world budget, therefore, I need to rely on affordable hijab combinations in order to avoid overspending on new clothing.
Ever heard of the saying 'bougie on a budget? It means looking expensive without spending a lot in a nutshell. That is exactly what we are aiming for here. My favourite hijab for the colder weather is the Diamante Jersey Hijab. Pair this with a pastel skirt, black sweater and white shirt and before you know it, you've instantly got a chic outfit that not only keeps you warm but it would make any fashionista proud.
Of course, this type of hijab may not be your cup of tea. So please click on our bestsellers and select your choice of material and colour. They are not mediocre by any stretch, they are comfortable, stylish and varied – don't just take my word for it, take a look at the reviews, they speak for themselves!
Go Minimalist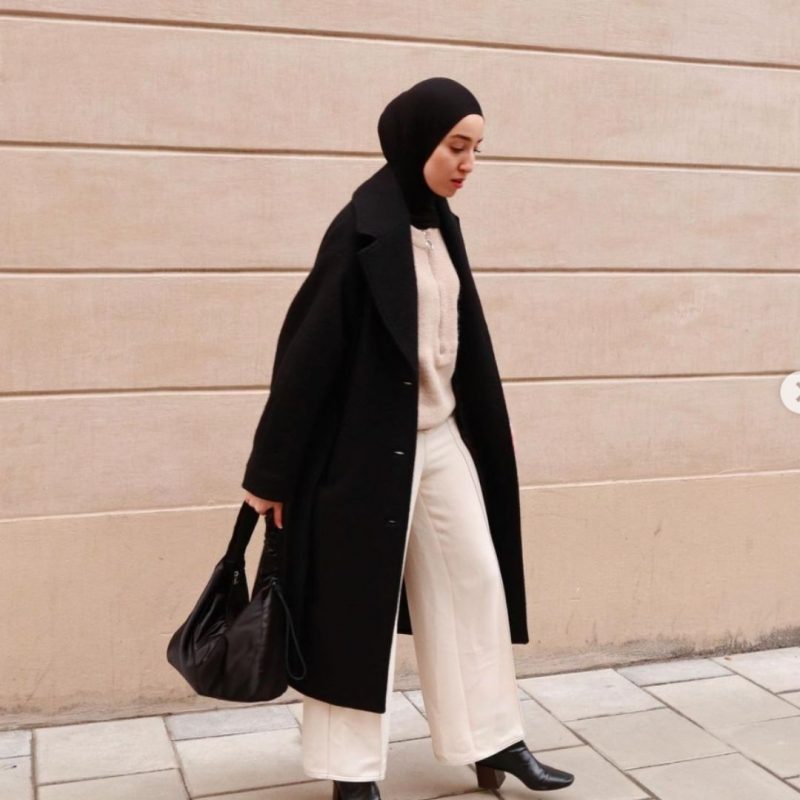 Speaking of neutrals and minimalism, one influencer comes straight to mind, Imane Al Asry. Being nicknamed by many Instagram users as 'Modest Minimalist'. we can already imagine the carefully selected outfits screaming 'high-end fashion'. Her neutrals make her a go-to reference amongst fellow hijabis when it comes to styling outfits.
As you scroll down her feed you notice the lighter neutrals used in the spring/summer months and now as the weather is getting closer the blacks, darker nudes and browns are making more of an appearance. She embodies the true values of modest fashion.
When it comes to adapting Imane's style the first place to start is finding high quality, durable neutral hijabs, I have selected a premium chiffon hijab and a plain jersey hijab as a base to then further develop on. These would also work well with layering with a colour neutral pallet or if you're feeling brave add a pop of colour as we mentioned above.
Hijab Styles To Flaunt This Winter – Be Colour Savvy
Moving on, not only do the cooler months mean a change in colours but it means we can go layer crazy! So let's take full advantage of the colder temperatures yet to come, and level up your style by layering like a pro. We want to keep make sure that we don't overdo layering with too many colours or colours that don't mix well together. So, the first step is settling on your colour scheme and base colour when attempting to layer.
This upcoming season, we are already seeing glimpses of gorgeous colours like burnt orange, emerald green, chocolate brown that have already been in style in previous years, which is now resurging. Another outfit combination is to start off with a natural colour like black, white or nude and layer it with pops of colour, like the ones mentioned above.
This will give any outfit that unique touch but without an overwhelming amount of colour. With that being said, if you are in doubt, stick to neutrals – you can never go wrong with a neutral pallet. If you are stuck on what colours suit you, you can always check out our Hijabi's saviour – The Colour Wheel.
Going back to my earlier confession about Instagram staking I want to showcase different styles by different modest influencers. Let's start with the Egyptian beauty, Farah Emara. She is well known for her turban, constantly sharing different patterns, tips and tricks for tying a turban for different occasions.
The balance of colourful outfits and neutral outfits paired with her gorgeous smile is enough to brighten up anyone's Instagram feed! You can check out her style here. Just to make it clear though, we are not huge fans of turban here at Hidden Pearls as we think it goes against the ruling of Islam, however, it's a style that is in and a lot of customers ask us about it so mentioned it here.
Then you have Hijabis like Leena Snoubar who has always maintained a very modest hijab, catch her here or even Lauleh. Both of these girls bring a smile to our face, and Lauleh's smile is contagious, masha'Allah! Being style bloggers we always look forward to seeing their outfits and beautifully styled photos! Not only are their pages lovely, but Lauleh's website is on another level!! Whilst Leena covers everything from fashion, makeup to homestyle on her website. Be sure to check them both out.
How Can You Achieve Similar Looks?
Now that we have seen real-life modest influencers pulling of different styles of clothing and hijabs let's take a look into what you can do to achieve these looks. Long, flowy dresses are heavily used in Imane's style, let me talk you through how to incorporate her style into your wardrobe. To start, grab a neutral free-flowing dress like this and black sandals.
Now the fun part – layering! I would layer a black sweater for the colder months with a black leather jacket on top. Pair this outfit with a light beige or black chiffon hijab and voila! You're good to go or, if you want to dress this up further, some gold accessories and a black over the shoulder bag!
For those of you ladies who are not into dresses, I present to you style number 2! This is by far my favourite style – trousers, they are so versatile. You can never go wrong with a pair of bright khaki trousers, so we shall use this as our base. It's the perfect autumn colour! Rummage through your wardrobe, I'm pretty sure you'll find any old plain white top, pop it on and tuck it into your trousers. Now let's hunt for a beige oversized shirt to layer on top but leave the buttons undone for that effortless 'just threw anything on' look.
Choosing footwear is totally up to you. We can keep it dressed down by popping on a pair of white trainers or dress it up by slipping on a pair on nude heels. This brings us to the final piece – the hijab, this is what will pull the entire look together. I have selected one of our bestselling black hijabs here. The black reinforces the minimalist look that we are trying to achieve.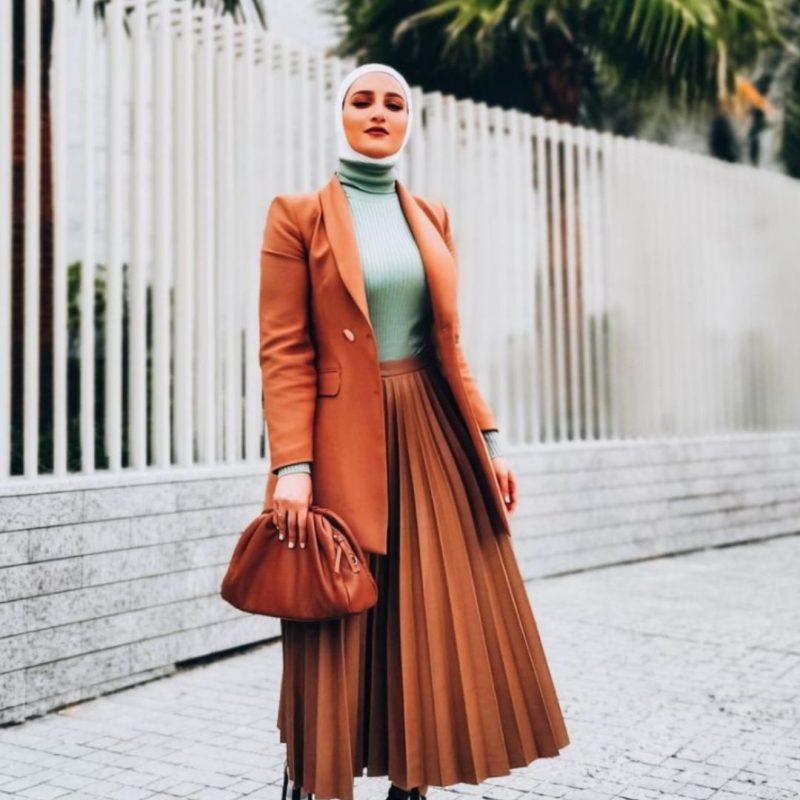 Hijab Styles To Flaunt This Winter – With more beauts
Another modest fashion influencer that I am sure you may have heard of (unless you've been living under a rock) is Dalal AlDoub. Currently, at 2.7 million followers on Instagram, she has changed the way hijabs think about fashion and has made us think of it more as expressing ourselves but in a modest way which as we know was never always the case. The rising popularity for modest fashion due to influences like Dalal and many more are one of the big reasons many females out there feel comfort when tying their hijab every day.
They are helping to create fashion trends when it comes to living in the western world. Now, when you take a brief scroll down Dalal's Instagram feed it demonstrates layering to an absolute T. She isn't shy with her style, sometimes you'll see her in a fierce all-black outfit and other times in a dainty white dress!
She isn't afraid of layering dresses with trousers or long-sleeved tops with shawls and blazers. The attention to detail is something to be in awe of, for example, adding belts to break up different pieces and to help give structure to outfits. The amazing thing about Dalal's style is the ability to adapt almost every outfit she has worn into an autumn/winter friendly style by simply adding a blazer or jacket without any of the original pieces clashing – pretty impressive if you ask me!
One thing that strikes me about Dalal's style is her limited colour pallet of hijabs – she is the perfect example of keeping things simple when it comes to her hijab – this allows her to experiment further with her clothing. Her main two colours are black and white – you can never go wrong with this. We have so many varieties and different materials of black and white hijabs for you to shop! However, there is one special type of hijab you will come across occasionally on her feed and this is a white diamante hijab. It adds another depth of fashion to her overall outfit and you're in luck as we store one just like it here!
Let's Wrap It Up
Well, there we have it, modest autumn/winter fashion inspiration for the upcoming weeks! It's an exciting time putting away summer clothes and taking out the winter ones as you rediscover hidden gems from the years before as well as a whole online shop to add to your collection! Use this opportunity to comment on what your go-to hijab colours and materials are for the colder months! Take the pointers above as a guideline to creating your own unique style! And remember, when it comes to fashion it's totally okay to break the rules! Wear whatever makes you feel amazing and #WerkkIt!!!