Dressing for your body shape as a hijabi in a way that looks and feels good can be a struggle for anyone, but sometimes dressing as a hijabi adds an extra challenge. Of course, you want to avoid certain styles to maintain your modesty, but that doesn't mean you can't choose clothes that are stylish.
When you learn how to dress for your body type you'll be able to choose clothes that make you feel more confident and hijabs that complement your face shape and outfit. With that in mind, read on below to learn about your body type, face shape, and how to choose complimentary hijabs. Dressing as a hijabi will become a breeze after this!
What Body Type Are You?
Dressing for your body, there are, generally, five different women's body types you can identify with and use as a guide for what cuts, styles, and patterns of clothes look good on you. These shapes are:
Hourglass – You have this body shape if your hips and shoulder width are directly proportional.
Pear – You have this body shape if your hip width is wider than your shoulder width, or if you have a small bust and large hips. This is the most common body shape for women, and pear shapes carry the majority of weight around their hips and thighs.
Apple – You have this body shape if your midsection is your widest point, though the rest of your body is generally well proportioned. In most cases, losing some weight will put you in one of the other categories.
Rectangle – You have a rectangle body type if your shoulders, waist, and hips are relatively inline with one another. This is common in athletic shapes and with models.
Inverted Triangle – You have this body type if your shoulders are your widest point and your shape tapers in. This is very common with sportspeople like swimmers and rowers.
Hijabi's – How to Dress for Your Body Shape
Hourglass
Your waist is well defined, your hip and bust line are the same width.
Hey, lucky you! Dressing for your body as a hijabi will be so easy. You've got one of the most sought-after body types, but it can be surprisingly difficult to dress it right. Your waist, hips, and bust (your hourglass) is your best feature, so do all you can to avoid hiding your waist. You don't have to wear tight clothes to emphasise your waist, simply use belts to show your shape. The key is to avoid looking boxy by essentially drawing a straight line from your shoulder to your hips – don't hide your waist!
As soon as people hear the word hourglass, they think uh-oh that means voluptuous, big, fat or whatever word you prefer to use. but it isn't. honest! You can be slim and still be an hourglass. So your shoulders and hips would be in balance with each other and you would have a defined waist and this would be an hourglass figure.
Just remember to work with your natural curves and wear clothes that are made in fluid fabrics so that the fabric moves when your body does and always try to focus in on the waist.
To avoid looking too immodest with your day-to-day outfits, choose your upper half or bottom half to wear something tight-fitting and wear something loose on the other. Always choose high waist bottoms and tuck your top into your jeans to show off your figure. Cardigans and coats with a belt are ideal for you. Find inspiration here.
Dressing for your body when you have a hourglass shape, it is important to follow these do's and don'ts: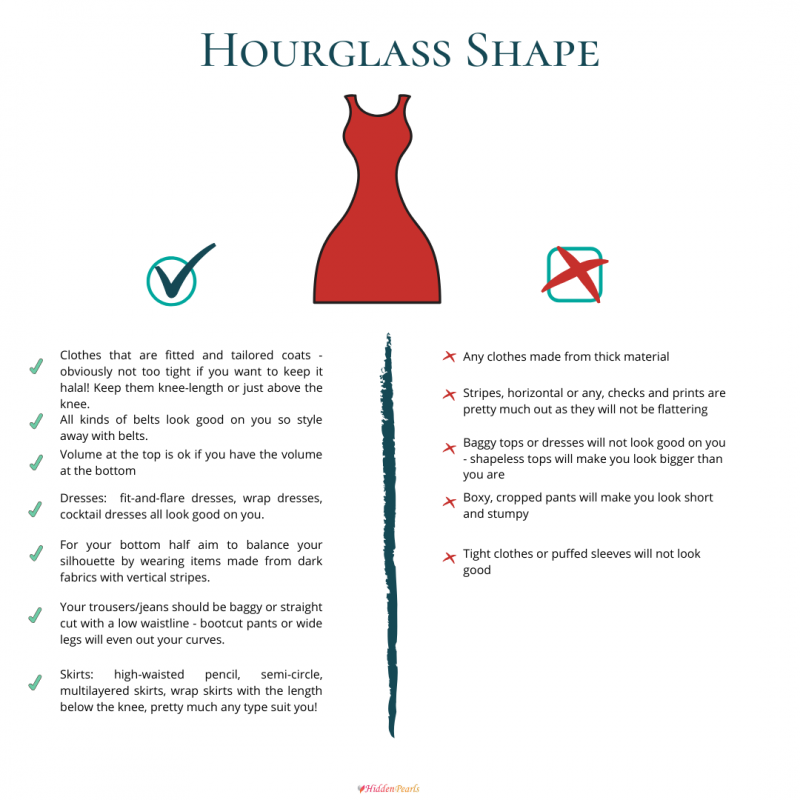 Pear
The shape that ends up making your thighs and hips look big. So you need to elongate your figure in order to balance your hips and shoulders. usually, its best to show off your top half. Dressing for your body when you have a pear shape, it is important to follow these do's and don'ts: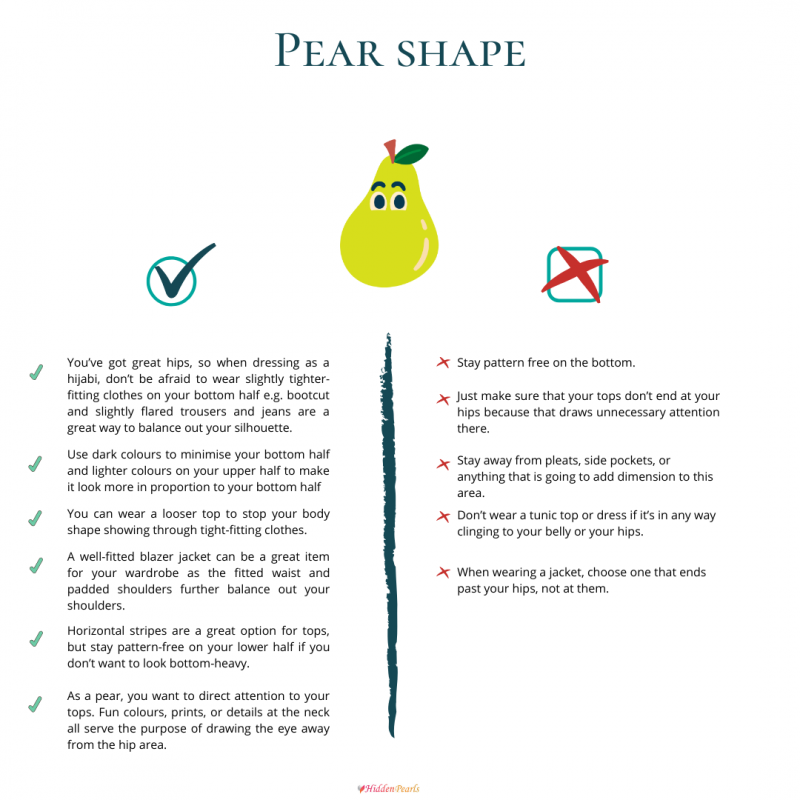 As a pear, you want to direct attention to your tops. Fun colors, prints, or details at the neck all serve the purpose of drawing the eye away from the hip area.
Here is how to determine if you're a pear shape:
Your hips and thighs are wider than your shoulders and bust.
You have a defined waist that is narrow compared to your hips.
Your body shape resembles that of Jennifer Lopez (Just an example!)
Pinterest is a great place to find inspiration for your outfits. Here are the type of outfits you should wear: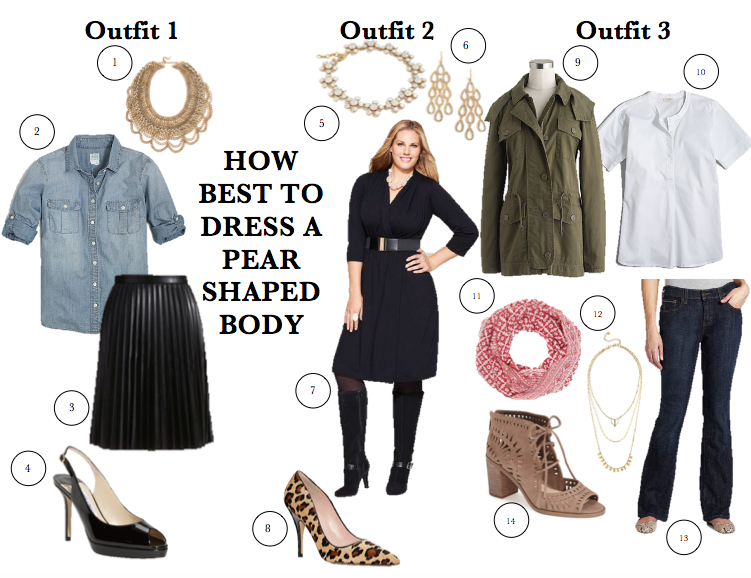 Apple
Because your waistline is your widest point (and likely least favourite) it is also the area we need to minimize and "pull-in". Avoid empire waistlines as although they may be comfortable, they cut you right under the bust and often emphasise the size of your waist. Instead, opt for A-line which will pull you in at a slighter lower and more flattering point. Dressing for your body when you have apple shape, it is important to follow these do's and don'ts: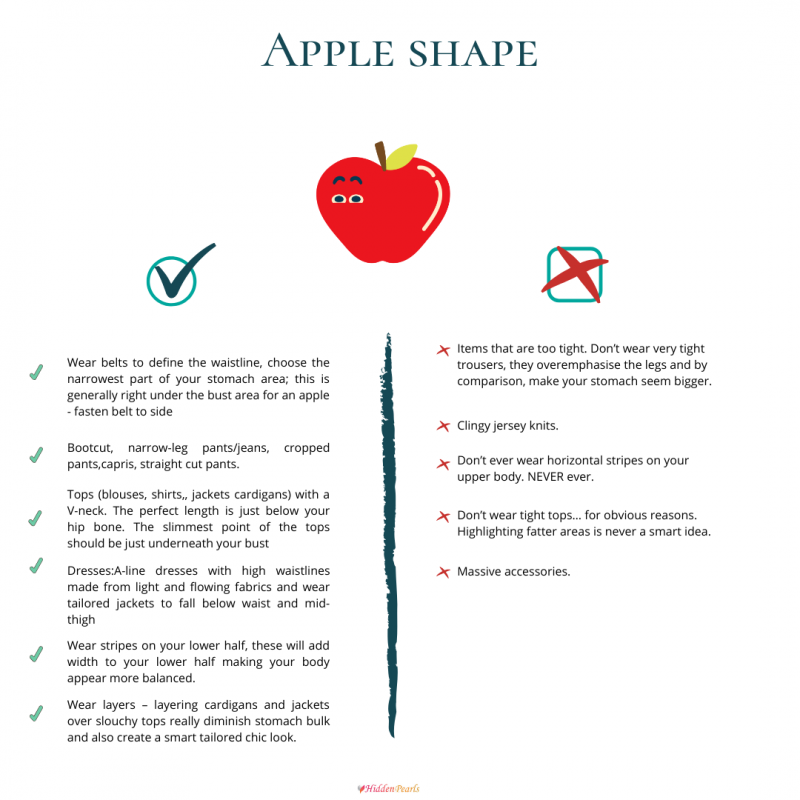 Like pear shapes, bootcut jeans are your friend, because you want to avoid looking like a candy apple on sticks. Opt for slouchy tops that are long so they pull your waistline lower down your body. Waterfall cardigans also help lower your waistline and create an illusion of a waist. The key thing to remember for apple shapes is to not try to create a false waistline by using belts and high waisted jeans, but instead, use long and loose tops to create a visual illusion of one. Find inspiration here.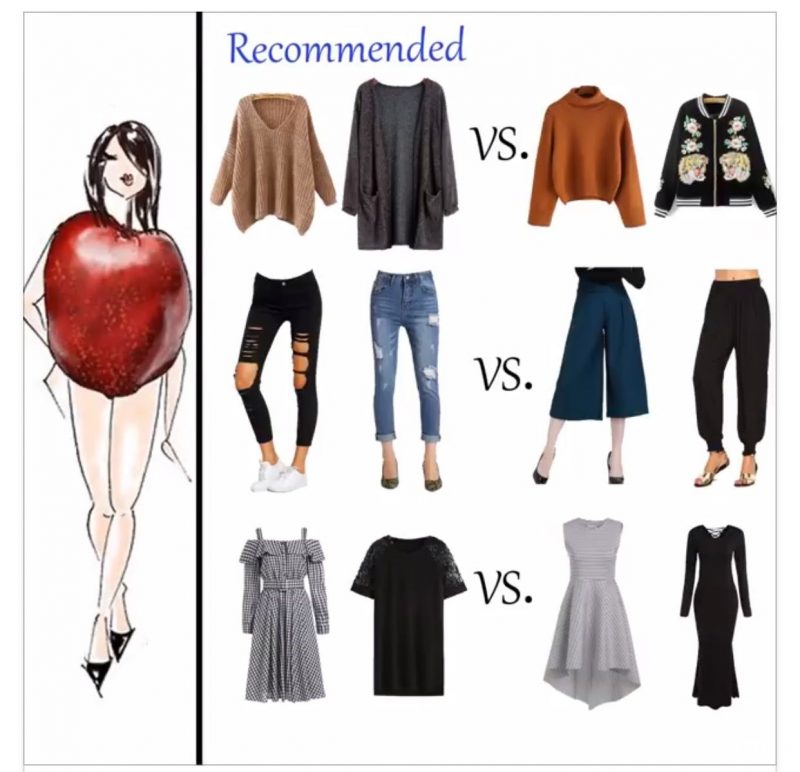 Rectangle
Your shoulders, bust and hips are around the same size, with no defined waistline.
Rectangle shapes are often athletic and slim, so you have a lot of options. If you are envious of hourglass shapes there is a lot you can do to create the illusion of wider hips and bigger bust, but don't be afraid of embracing your shape, either. Any styles you see in fashion magazines (especially high fashion) will work for you, especially if you are tall.
Dressing for your body when you have a rectagle shape, it is important to follow these do's and don'ts: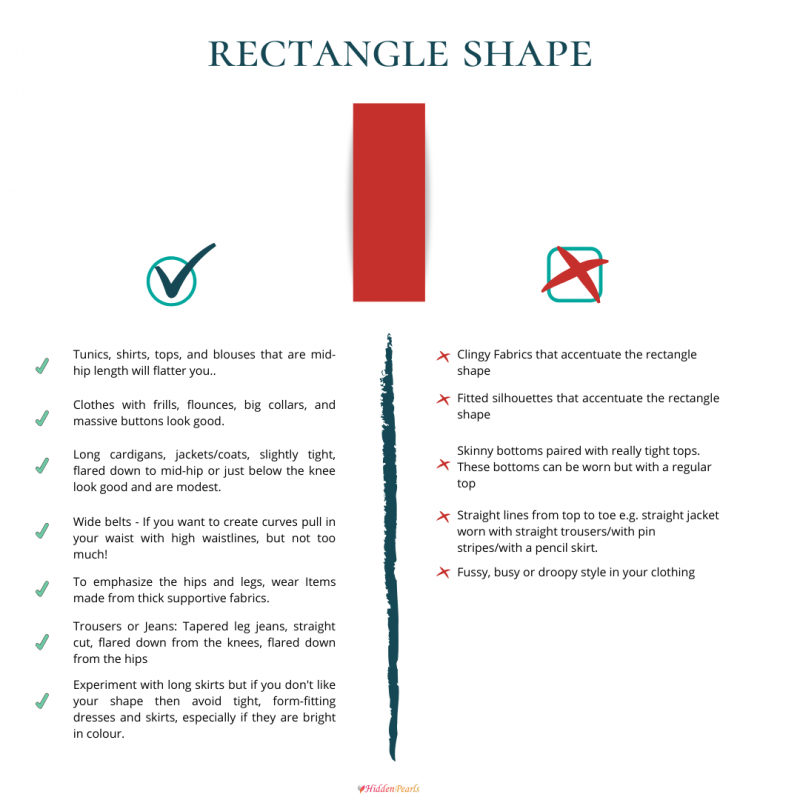 Inverted Triangle
An inverted triangle either means your largest point is your shoulders or your bust. If you have a smaller bust, your main goal will be to minimize the width of your shoulders and emphasise the width of your hips. To do this, pull the eye away from your upper body and toward the lower body.
One idea is to wear darker colours on top and lighter colours on the bottom. Similarly, wide-leg trousers and slouchy mum style jeans will work wonders for you. Find inspiration for your shape here.
Also, dressing for your body when you have a inverted shape, it is important to follow these do's and don'ts: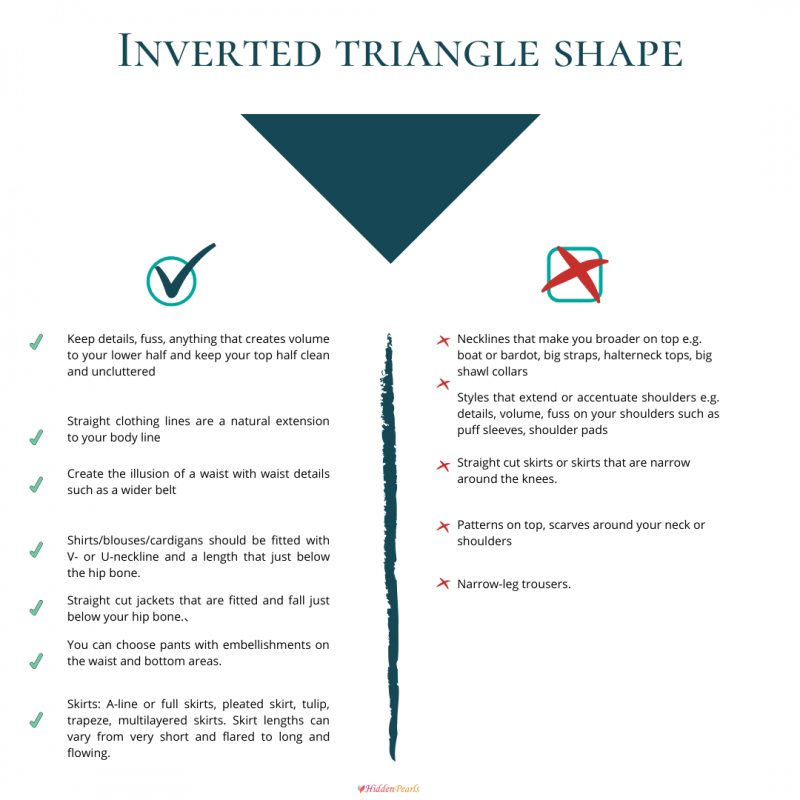 What Face Shape Do You Have?
Just like our bodies, our faces all have different shapes and so certain styles of hijab will suit certain face shapes better than others. Generally, there are six different face shapes, which are:
Oval – oval face shapes are just that, their widest point is across the cheekbones and gracefully taper down to around chin. The forehead and chin are fairly symmetrical, and the cheekbones are usually their most enviable feature. The model Imane Asry has this face shape.
Round – round face shapes are those that are relatively equal in horizontal and vertical length, often with a rounded chin. Your cheeks are the widest part of your face. Actress Mila Kunis has this face shape.
Rectangle – sometimes known as an oblong instead, rectangle face shapes are long, with your forehead and jaw being relatively similar in width.
Square – square face shapes are similar to round, in that they are generally equal in length vertically and horizontally, however, their jaw and chin is often much more defined and the overall shape of their face is much more angular.
Diamond – diamond face shapes are narrower at the forehead and chin, with high cheekbones and pointed chins. Their jawline is often very defined.
Heart-Shaped – heart-shaped faces have a wide forehead and a small pointed chin, creating that heart-shaped look. The heart-shape is often emphasised because the overall shape of your face is softer, not angular. 
How to Choose Your Hijab Style for Your Face Shape
Oval
Oval shapes are the most versatile face shape, and so you can wear any style of the hijab (and sunglasses) you like!
If you have rounded features and you'd like to avoid emphasising the cuteness of your cheeks, avoid the traditional hijab style which emphasises the length of your face, as you may find your cheeks become most prominent. If this is the case, choose brighter and more interesting fabrics than the traditional black, as the black is contrasting and will make your face look bigger.
This Aztec Ring Hijab is a great option, as is this Moroccon Border Hijab
Round
People with round face shapes are often cursed (as teens and young adults) and then blessed with being mistaken for being much younger than they really are! While this may be irritating in your youth, it is something to cherish as you get older. If you want to minimize your baby-faced appearance, keep your hijab loose and drape the fabric.
A tight hijab will emphasise the fullness of your cheeks, so if you want to emphasise your youth wear your hijab a little tighter.
Remember that dark colours will make your face look fuller, while light, neutral shades will soften the shape of your face. This Deluxe Glitter Organza Hijab in the shade "dusky pink"  is a great example. Simply choose a similar texture and colour without the sparkles for everyday wear.
Rectangle
Like oval shapes, your face shape is quite versatile and will suit many styles of hijab. If your face is angular, loosely drape the fabric, use textured fabrics, or opt for a turban to avoid emphasising the length of your face.
This Ombre Embroidery Hijab or this Deluxe Glitter Organza Hijab are great choices.
Square
Square shapes have a defined jaw many will be jealous of, but if you wear your hijab too tight around your neck you'll emphasise the angles of your jaw and chin. If you don't like this look, simply wear the fabric more loosely and choose feminine textures and patterns to soften the line of your jaw.
Hijabs like this Moroccan Tassel Hijab is perfect for this style.
Diamond
Diamond-shaped faces have great bone structure, but if you find your face is too angular, keep a loose, flowing look to your hijab. You can also easily rock the turban look if you wish to. With this face shape, there aren't any styles you need to avoid.
If you have a particularly pointed chin, avoid dark fabrics that will contrast beneath the chin. Any of the hijabs mentioned for the other face shapes will work perfectly for you.
Heart-Shaped
You've got great cheekbones and romantic and photogenic face shape, so a great way to wear your hijab is with it pinned under your chin to define your jawline. To emphasise your femininity, choose soft, flowing fabrics. Your face style is very versatile, so experiment to see what style you like best.
Try this Deluxe Pearl and Gems Wedding Hijab for special occasions, or this Everyday Pearl Hijab is great for every day and outlining your already feminine face shape with a little bit of glamour!
For more on how to match your hijab to your face shape, go to our article Hijab styles for 5 Faces.
Don't Forget to Match Hijab and Outfit
Don't forget to choose your hijab each day to match your outfit. If you wear a turban from time to time and are wearing an outfit with a high neck, a turban will work perfectly with the look. Don't be afraid to experiment and have fun with your outfits!
We have an extensive range of hijabs available on our site here [link: https://www.hidden-pearls.co.uk/product-category/hijabs/] so you'll find the perfect hijabs for your face shape and style. Also, check out our article that advises you on how to match your hijab to your skin tone.