This article has been made with revert Muslimahs and newbies in mind. Below are 3 ways to style your Hijab and look modest yet stylish! Wearing a hijab is no less than art in itself: one that can be mastered pretty easily. You might have seen stylish Muslimahs wearing their hijabs in various different ways. This article will show you chic hijab styles that are easy to do and will have you reaching into your hijabi wardrobe in no time to start practising!
The Turban Hijab
This Hijab style incorporates the traditional turban look into something more stylish. It's great for weddings and other formal events when you want to glam up your outfit! Many celebrities and famous personalities have also adopted this Hijab style.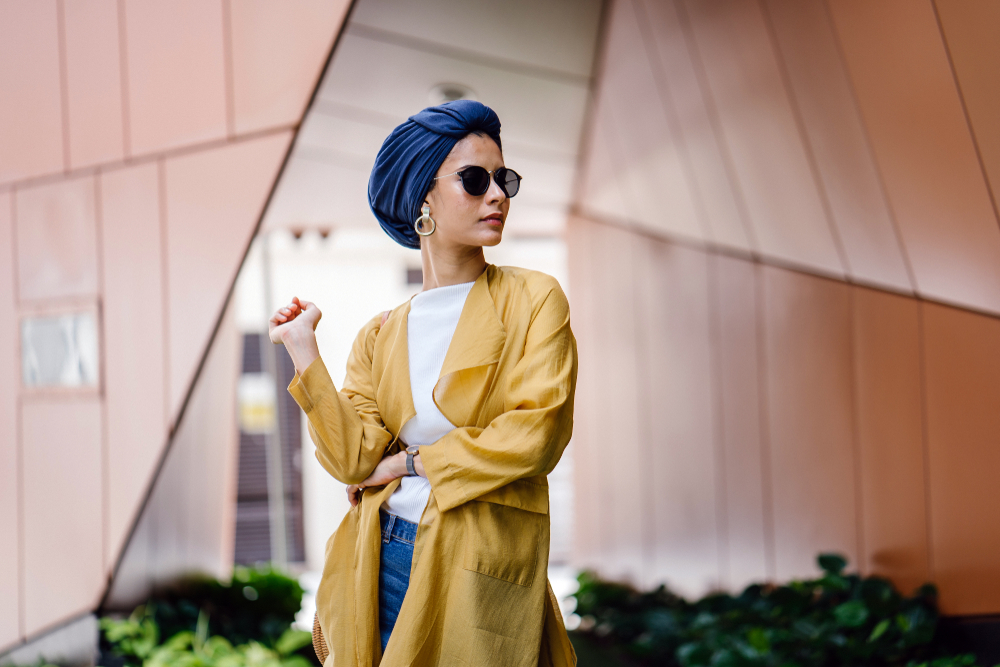 Here's how to tie a Turban Hijab:
Make sure you wear your underscarf properly because the type of underscarf you wear can affect your entire look. For this hijab style, you want a Ninja underscarf (this is the most ideal as it covers your hair and your neck), regular bonnet underscarf , or a tube underscarf.  The benefit of an underscarf is that your hair will stay in place underneath the hijab and not stick out from the sides and will allow you to style your hijab so that it stays in place all day long. You don't want your scarf to bulge out in weird and uneven spaces, therefore, it's recommended that you tie your hair into a ponytail and then wear your underscarf.
Ideally, you want a rectangular long scarf for this, but you can also fold any square hijab to make a triangle shape (This can make creating a turban fairly easy but can limit the number of styles you can create). Fold it in half so that the width decreases to half the original amount. Now, place it over your head with the folded part in the front, and the open-ended parts at the back.
After you place your hijab at the top of your head, adjust it so that one side of the scarf is longer and overhangs while the other side is short.
Next, bring the two ends to the back, and tie a knot with both the ends. Make sure the knot is secure. If you have a very long scarf, you can also make a double knot to secure your hijab.
Now, bring the shorter end upwards on your head and secure it using pins.
After that, wrap the longer end once around your entire head and then when it's finished, secure it with pins too so that you get a layered look.
 Be sure to secure both the ends with pins and you'll get your turban Hijab!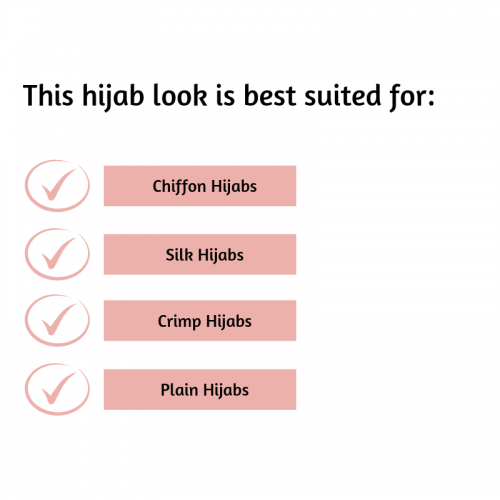 The Arabian-style Hijab
This Hijab look gives Arabian vibes and is a pretty classic hijab. You can wear it in almost no time because it's pretty easy to tie! So, if you're ever in a hurry and need a quick Hijab style, you know which one to try!
Here's how to wrap the Arabian-style Hijab: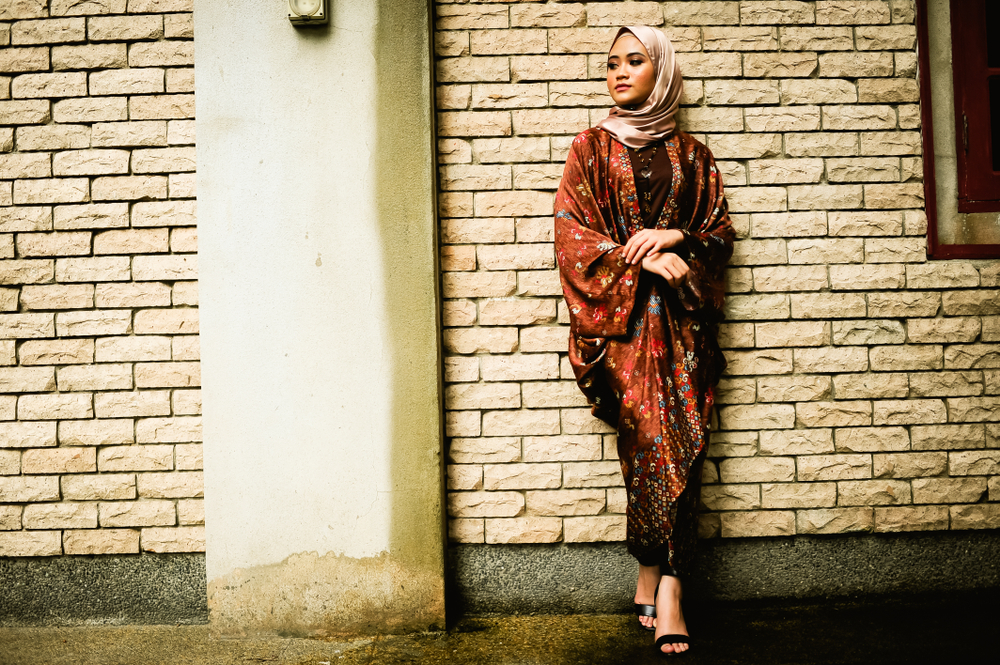 First of all, wear your underscarf, although, just to make it clear, we only say this to make your life easier. If you don't like to wear them or get a headache like me and trust me it can really trigger migraines, you can always opt-out from wearing one! Underscarves generally enhance the beauty of the hijab and the overall look is a lot more trendy.
Take your rectangular scarf and then fold it in half so that the width of the scarf becomes half, not the length.
Next, place the scarf so that one side is long whereas the other is short.
Take the back end of the short side, and then bring it all the way to the other side below the ear and pin it up.
Next, bring the long end to the opposite side and wrap it over the head once, bringing it back to its original side.
Make sure you pin up and secure the ends at each step so that your scarf stays stable and doesn't lose its shape in the process!
This style is suitable for daily casual wear and barely takes any time to create.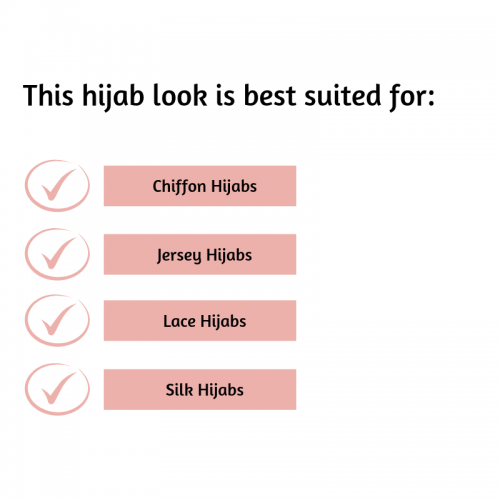 The Casual Cross-Hijab
The casual cross-hijab has a simple grace that looks good any time of the day. and guess what? This hijab style only requires one hijab pin!
So, if you hate using hijab pins or you just find them a tad bit annoying, as some of our customers do, you should definitely try this cross-hijab style! It's a style you can wear every day and it takes less than a minute to style it!
Here's how you can make a casual cross-hijab style:
First of all, wear your underscarf (as always!)
Next, drape your hijab over your head so that the length of the hijab is equal on both sides.
Now fold the front part of the hijab around your forehead so that it is resting neatly across your forehead as shown in the picture below.
Make sure not to fold too much or too less, as it might significantly decrease the width of your hijab or it might unfold while you're securing the hijab.
Next, secure both parts of the scarf together beneath your chin using a hijab pin. Secure the pin carefully so that it doesn't hurt you! Be very careful about this because safety pinpricks can actually hurt a lot, we have all been there!
After you're done securing both the sides with a safety pin, take one side and bring it over the opposite shoulder, and then onto the front.
Make sure you take the whole side and drape it over your shoulder, don't leave it hanging.
Next, take the other side, and drape it on the other shoulder. So that it comes back to that same side on the front.
There you go, you are ready to go out and grab a cup of coffee, or do anything really. How long did that take? Barely a few minutes. Use this hijab style for whenever you're in a hurry and can't be bothered to think of any other style, as this is a fail-safe style.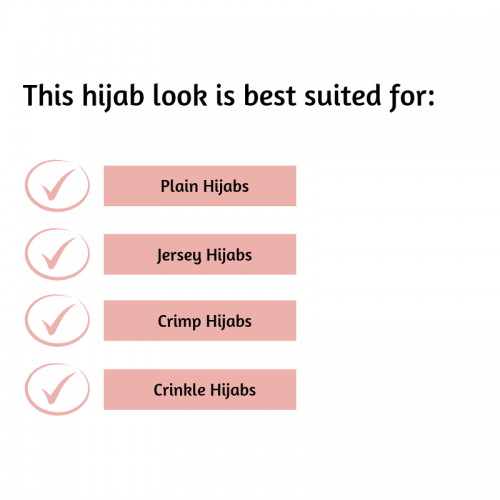 So, what are you waiting for? Try out these gorgeous Hijab styles that will have you looking amazing with minimum effort! Every face shape is unique and needs a different hijab style that is suited to that particular face shape. Therefore, try experimenting with your hijab to explore new styles and techniques that you never even knew existed. Don't forget to check out our Hijab Styles for 5 Face Shapes for inspiration as to what hijab styles will suit you.
Stay tuned for more Hijab styles and updates!