No Hijabi's winter wardrobe is complete without some fabulous wintery Hijabs. Get ready for a stylish winter with Hidden Pearls' list of hijabs that are sure to have you flaunting your hijabs gracefully whilst keeping the chills at bay. Remember to coordinate your outfits to your hijabs. Try refreshing your wardrobe with a little colour, find a new shade and be willing to experiment with colour combinations e.g. that dark black jacket will look great with a pop of colour, try pairing it with a red hijab. For further advice on colours that work well together have a look at Part 1: Hijabi's saviour – The Colour Wheel.
Crinkle & Crimp Hijabs
One of the most versatile hijabs around, Crinkle hijabs are what we call the "on the run" hijabs. No need to iron, just wrap it around your head and your set for the day ahead. You also have the Crimp hijabs, slightly less crinkled then its counterpart. The Crimp hijab is this winter's craze, they come with frayed edges giving it a slightly edgy look. Whenever we have been out and about, it's one of the most sought-after hijabs after the summer trend of Chiffon! These hijabs are and perfect for winter, what's more, they come in an array of colours!
Why not try pairing a black crinkle hijab with flared trousers for a hippy yet smart look like our beautiful model Mona. (hipster_hijabi).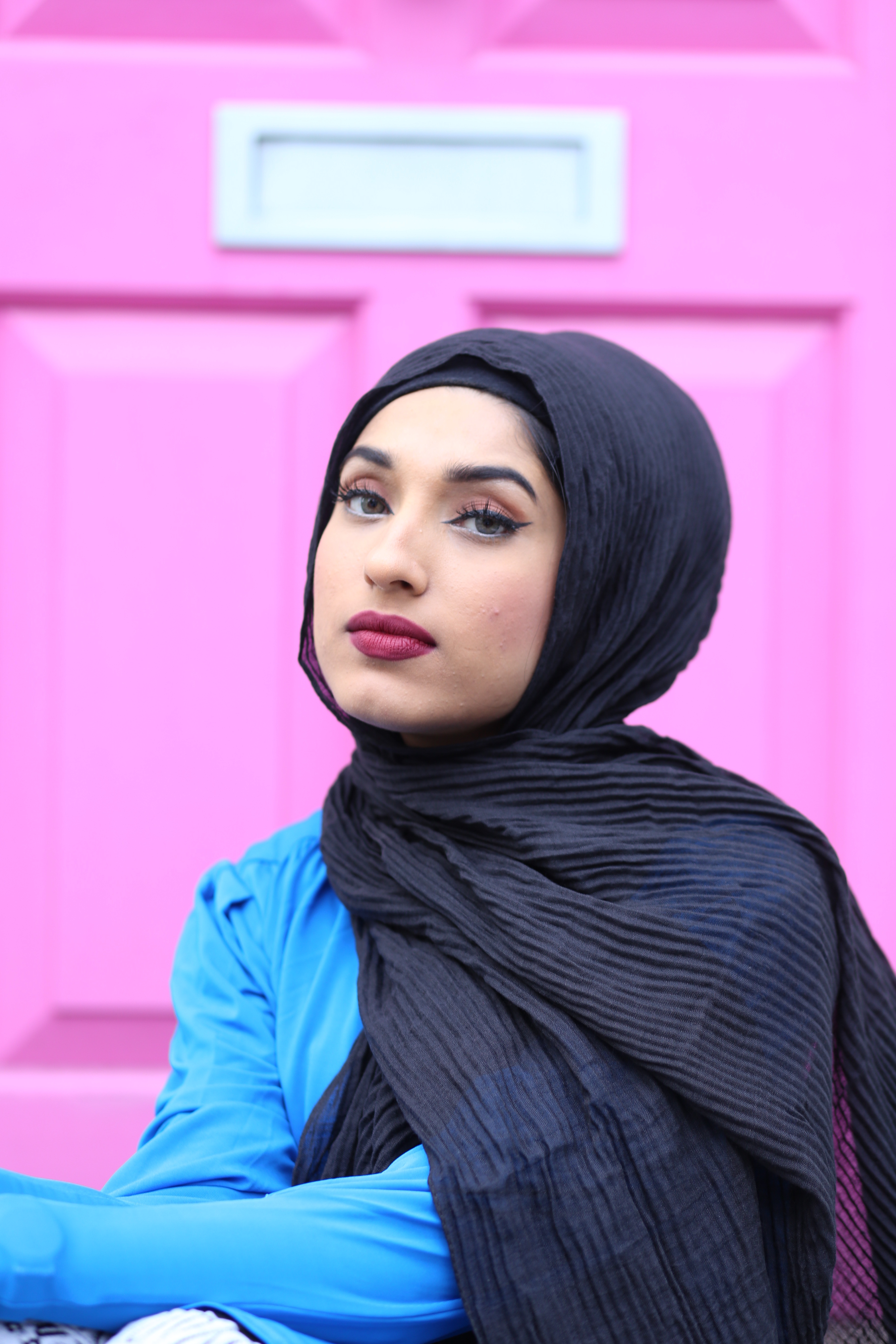 Or try this gorgeous crinkle hijab with a tweed jacket, trendiness and sophistication rolled into one by the gorgeous Shumaila (Shumidee).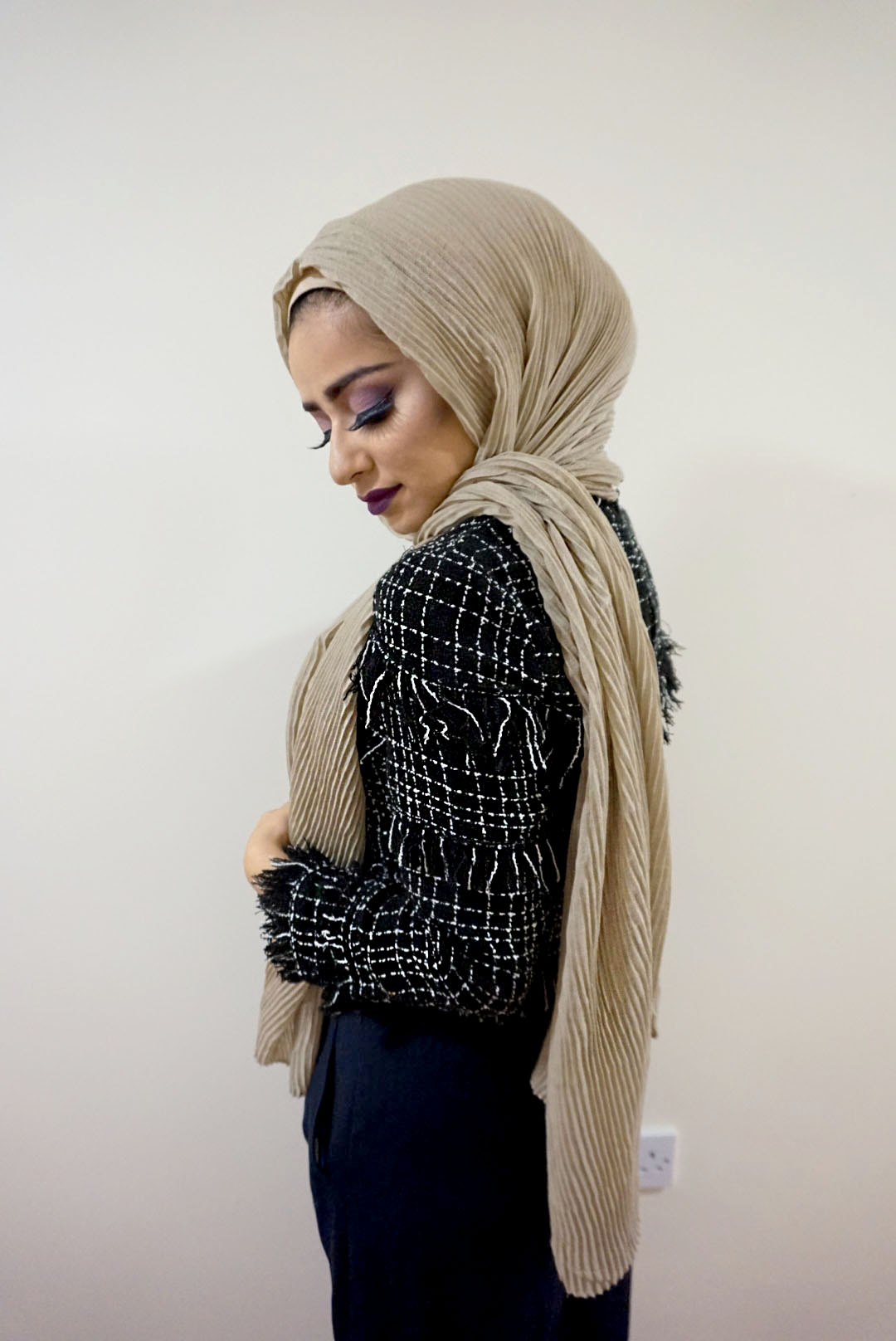 Or why not try the Crimp hijab? As mentioned before it has been an instant hit. Halfway between a crinkle and plain hijab, it drapes beautifully and comes with frayed edges all around. It offers both comfort and style. Check out our model Ina (fashionbyina) in a Dusty Pink Crimp Hijab, she carries the look beautifully this winter by pairing it with a dusty pink jacket and washed out jeans.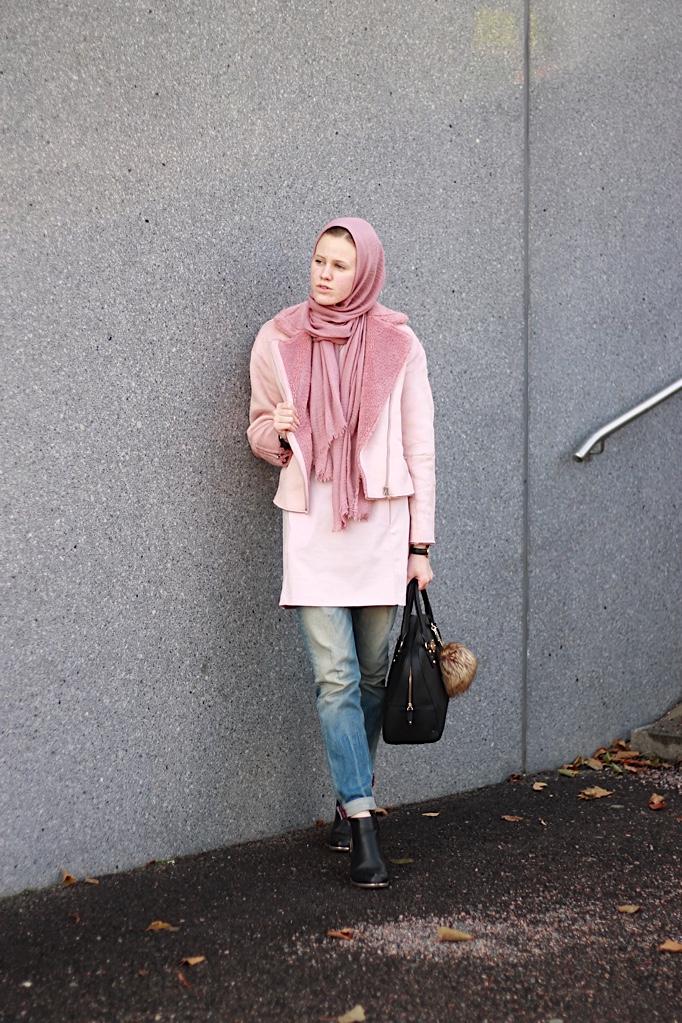 Jersey Hijabs
Embrace the cool girl inside of you, and sport a leather jacket with a Jersey Hijab like our model Fatema (lordbozorgian). The Jersey Hijabs work well with everything, it is perfect for everyday wear and you don't have to worry about pinning your scarf into place. They're big enough to be able to cover your awra perfectly. Jersey hijabs are usually available in plain colours making it brilliant for morning runs or work. It also works well for formal occasions when you're wearing a heavy printed outfit.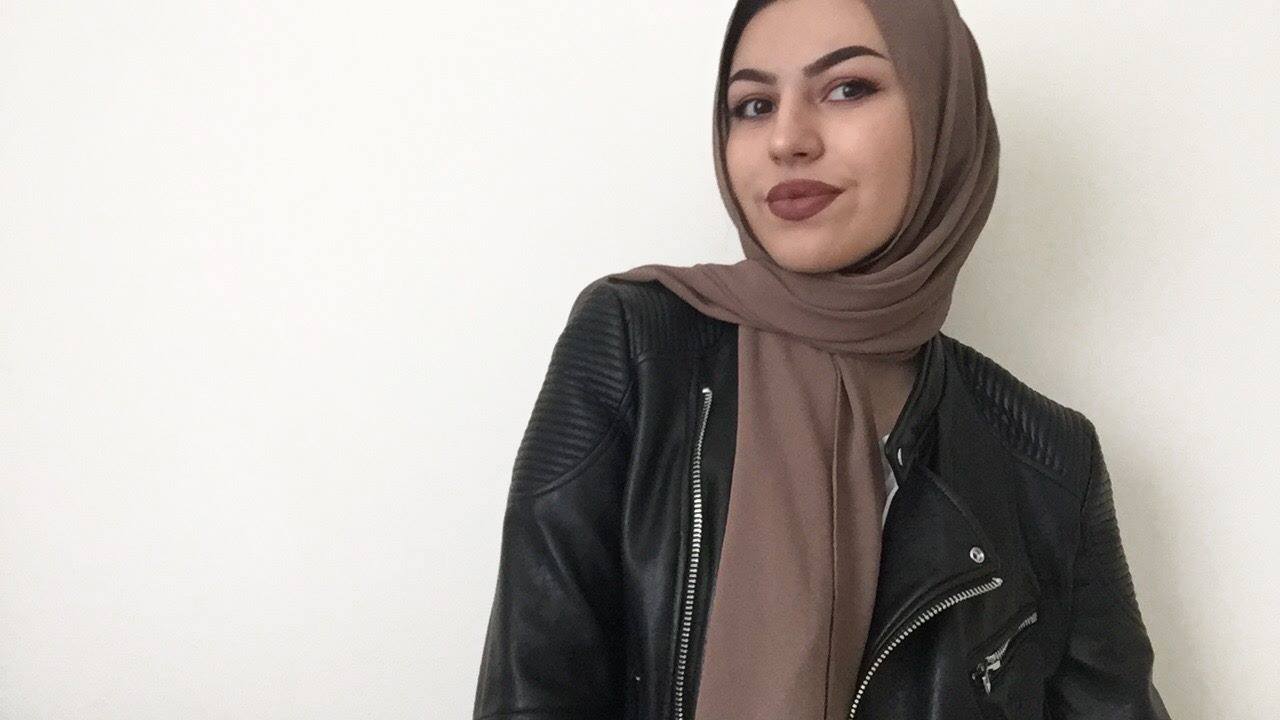 Burberry Hijabs
When its winter you think of long thick coats preferably with a neutral colour, perfect for any outfit and a trendy Burberry Style Hijab that will keep you warm during the cold winter months. Burberry hijabs can be worn in two ways. As a hijab like our model Valerie: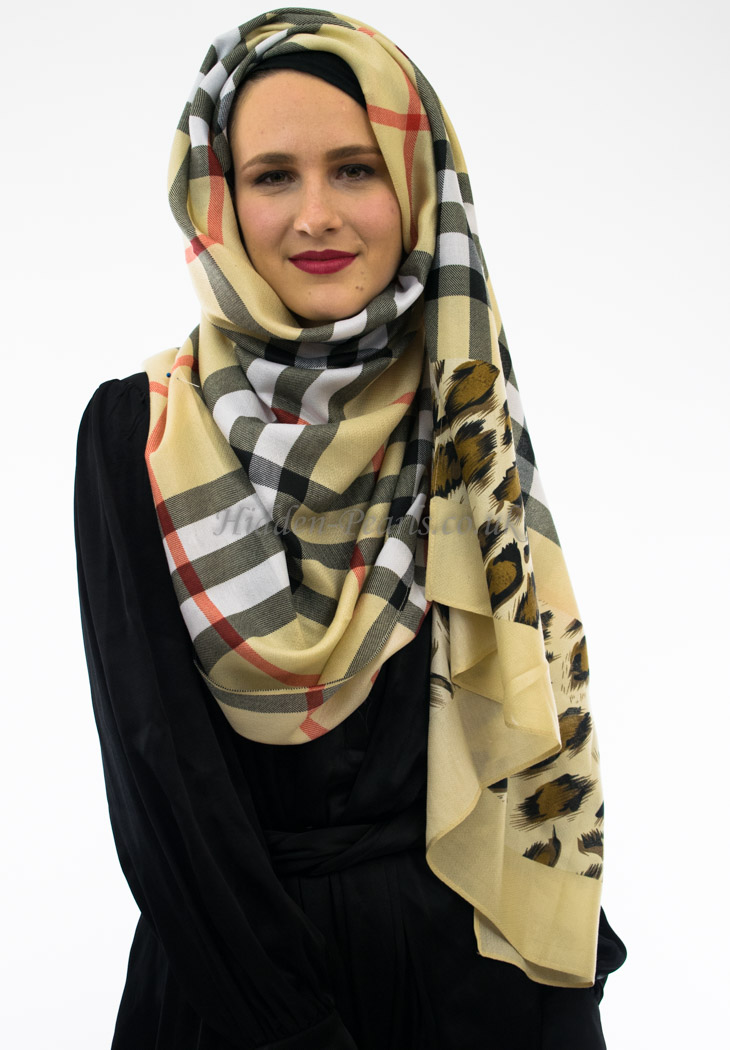 Or why not jazz up a plain outfit but wrapping a Burberry hijab around your shoulders, not only will you look good but you will also be protected you from the chill.  make sure to wear a plain hijab so that it complements the Burberry hijab like Anelya: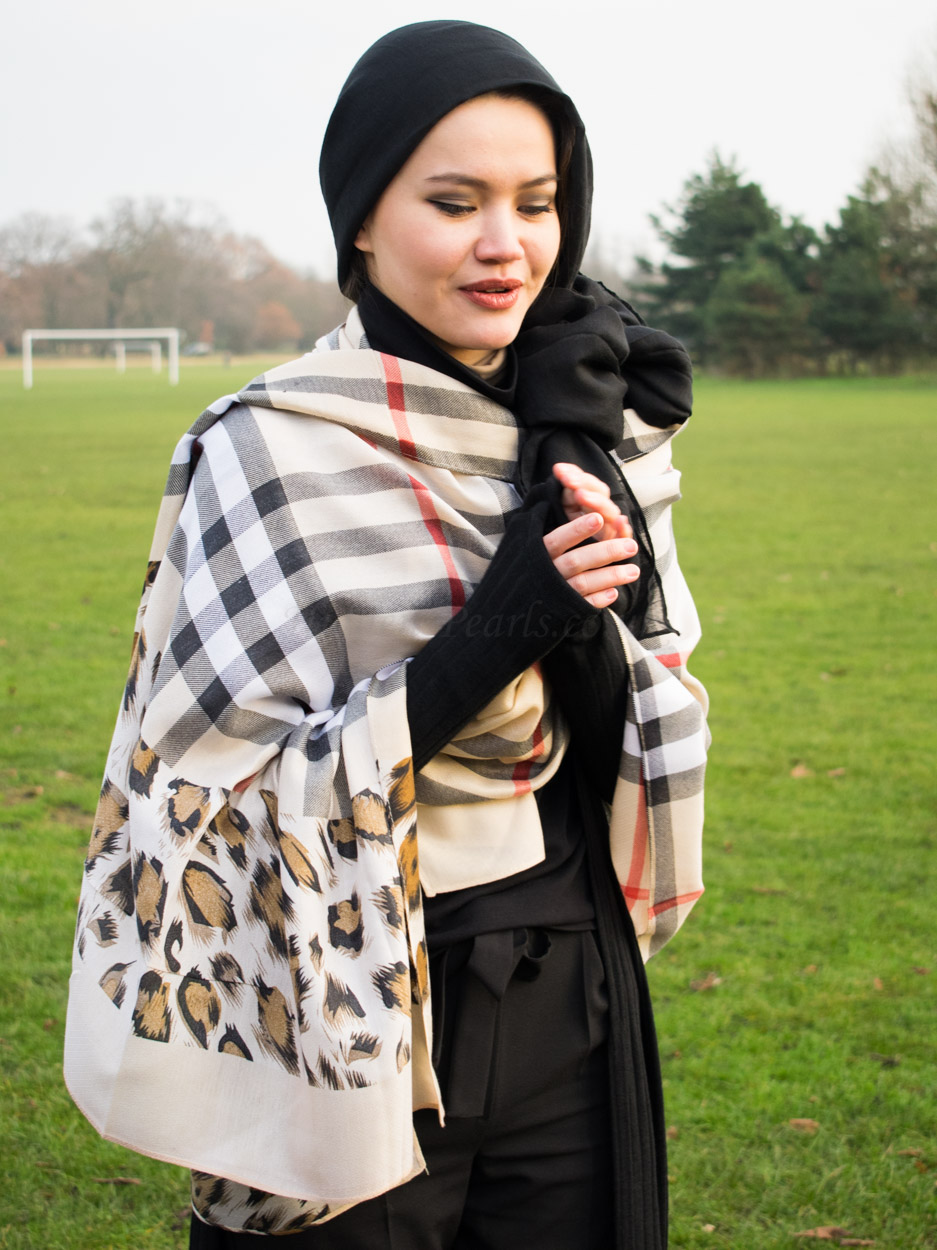 Tassel Hijab
For the busy days why not mix an athletic look with the chic look. Try a chic yet simple Tassel Hijab for an everyday look paired with a cool pair of sneakers to make a statement hijabs style this winter, of course, you could also wear your favourite red lipstick to take the hijab look to a whole different level. Our model Charlotte looks dreamy as well as sporty in this look!

Planning on going to a party?
if you're going to be going to a wedding on any special occasion, the following hijabs are sure to leave heads turning.
Silk Hijabs are a must have for weddings and look good no matter what the weather! glam it up with a supercool outfit on a special day out.

our range of Deluxe Plain Hijabs is sure to have heads turning, having a peach fuzz feeling these hijabs are an absolute delight to wear to weddings. The material is an amazing mixture of velvet and silk and therefore gives a luxurious feel. Check out Shumaila (Shumidee) looking stunning in the Plain Deluxe  Hijab that is exclusive to us!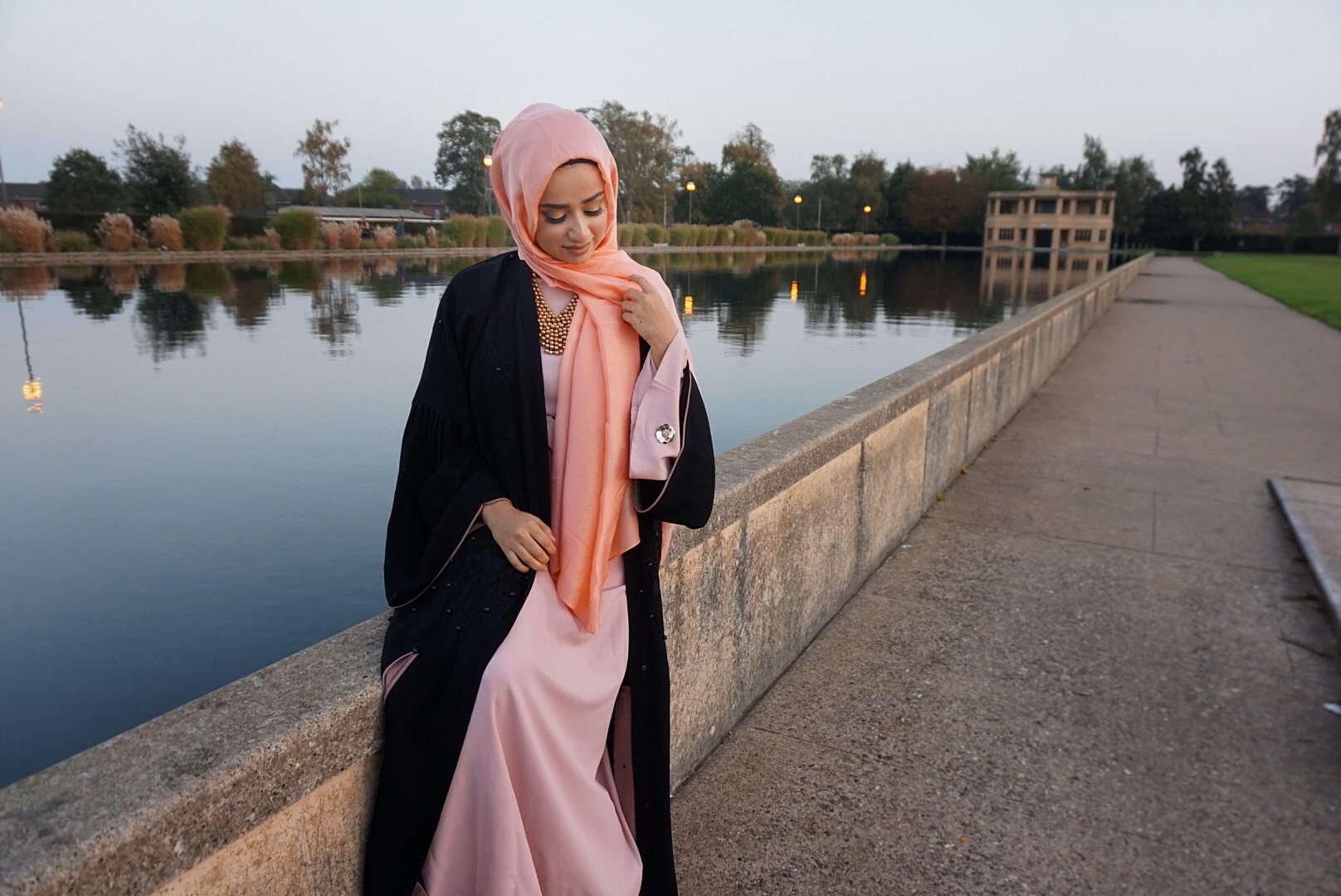 Still not convinced? Check out Zainab (zainabjiwa) sporting the look in our Deluxe Plain Hijab as well!
Why not have heads turn with this gorgeous Glitter Rose Hijab. These are great for winter the fabric is thick without weighing you down and perfect for weddings and parties.
Finally, don't forget to grab yourself a contrasting blanket scarf. Blanket Scarves might seem overwhelming at first, especially because of all the fabric, but they really aren't! Try folding it length-wise and then wrapping it loosely around your neck a few times. No need to make it tight, just layer the fabric across your neck and chest. Or drape it tightly around your neck and then let it hang down both sides. When you're cold, use it as a blanket or shawl, it works wonderfully if you don't want to wear a coat or cardigan.
There are so many different ways you can update your winter hijab styles to stay cosy warm and be stylish at the same time. Try one of them today!