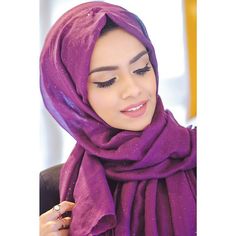 The stunning shimmer hijab is a must-have for special occasions, parties, weddings, and evenings out with your family or friends. It can add a special bling to any outfit that you wear that is for a party. This hijab is soft and has a shimmery glitter effect throughout the entire hijab. This hijab will stay in place without any hijab pins or brooches but you can add them in for an extra bling to your hijab. Add a ninja style under scarf for the layered effect if you want, otherwise its fine all on its own.The lightness and the softness of the fabric makes this so comfy to wear and woven between the hijab is a soft silver metallic thread which gives an overall brilliant sparkle. Beautiful and high quality, these Hijabs are perfect for any special occasion, match it to your outfit to look great amongst all your friends, drape it, create folds, make your own unique style, dare to look great on that special day. Shimmer your way down to the next exciting function. Great when your going to a wedding, a birthday party or somewhere special, these pair beautifully with that special outfit that has been chosen for the day. They shimmer gently and will make you feel pretty. We suggest you don't feel shy wearing one of these shimmer hijabs because when you take a peek in the mirror you will be smiling all day long!
Shimmer Hijabs are available in two types:
The shimmer hijab that is dazzling and will shine in any party and
The subtle shimmer which has less of a shine but can be worn generally out and about as well when you want that little extra sparkle.