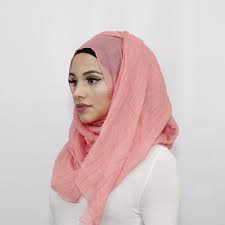 For iron haters Crinkle hijabs are a blessing in disguise, they are perfect when you're on the go and have no time.
These Hijabs are the easiest things around, you wrap them around you or over the head and off you go. Of course for those crinkle haters but print lovers (if you like the print but hate the wrinkles) you can iron the wrinkles out and end up with a crinkle free Hijab. They are available in various prints and in plain colours. Therefore you would be spoilt for choice. You can also use them to create a voluminous effect so you can style it quite nicely.
Crinkle hijabs are super soft to touch and so easy to style making it the easiest to wear when rushing to complete an errand or when you just don't have time to spend ironing to go to work or university! The crinkle effect gives the scarf a different texture and enhances your look. You can wear crinkle hijab with a black t-shirt, which a long cardigan on top and a pair of jeans to give off a casual and comfy look. Crinkle scarfs are found in viscose, crepe and chiffon. Chiffon is the lightest and most delicate of them all. You can wear a Crinkle scarf around your neck for a casual look as well if you are not used to wearing it as a hijab. They look great in winter and work well with many different types of outfits.